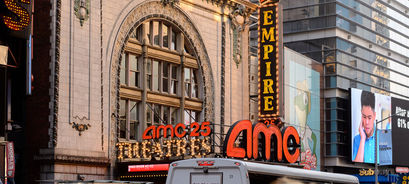 AMC Theatres gives away free NFTs to its 580K shareholders

Jinia Shawdagor
Last updated 31st Jan 2023
AMC makes good on its promise to offer its 580,000 shareholders free NFTs
Leading movie theatre chain AMC has delivered on its promise to reward its more than 580,000 shareholders with free NFTs. A report unveiled this news earlier today, noting that the company disbursed its exclusive I Own AMC NFT to shareholders that registered via its Investor Connect portal by December 31.
According to the report, the NFTs will be tradeable. On top of this, they will offer current holders multiple perks, including discounts. The NFTs were minted on WAX, an energy-efficient, ultra-low carbon footprint blockchain and the first certified carbon neutral platform optimized for high-volume transactions like massive NFT drops and video games.
In a previous press release, the company noted that the shareholders can store the NFTs in the WAX cloud wallet or other crypto wallets. AMC added that it would pay all costs for all shareholders that pick the WAX cloud wallet option for the rest of 2022.
Notably, the movie theatre chain previously teamed up with Sony Pictures and used WAX for the minting of 86,000 NFTs for select people that bought tickets to the Spider-Man: No Way Home. Renowned brands like Mattel, Hasbro, and Atari have also used WAX for NFT drops.
AMC continues skewing towards web3
This news comes as AMC continues embracing web3 after last year's meme stock frenzy saw its stock rise from just over $2 in January to over $59 in June. After discovering the power that lies in a decentralized ecosystem, the company went ahead and started accepting cryptocurrencies for payments, with hopes of attracting the crypto community.
At the moment, AMC accepts Bitcoin (BTC), Ethereum (ETH), Litecoin (LTC), Bitcoin Cash (BCH), and Dogecoin (DOGE). DOGE was the latest entry, and at the time of adding the meme token as a payment option, AMC CEO Adam Aron said cryptos formed 14% of the firm's online transactions.
With Shiba Inu (SHIB) making moon shots in 2021, AMC said it plans to add support for the canine-themed token. Apart from embracing cryptocurrencies and NFTs, AMC is also exploring the option of launching its own cryptocurrency. Aron shared these ambitions during an October 19, 2021 interview with CNBC.
Specifically, Aron said,
There are a lot of reasons why AMC could be a successful issuer of cryptocurrency as well as a redeemer of cryptocurrency. That's just one of half a dozen ideas that we're working on right now.
Jinia Shawdagor
Jinia is a fintech writer based in Sweden. With years of experience, she has written about cryptocurrency and blockchain for renowned publications such as Cointelegraph, Bitcoinist, Invezz, etc. She loves gardening, traveling, and extracting joy and happiness from the little things in life.