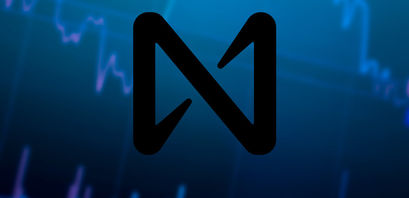 NEAR Protocol price prediction: Towards a 25% meltdown?

Crispus Nyaga
Last updated 29th Jun 2022
NEAR Protocol is a leading and fast-growing Ethereum-killer.
It uses the Nightshade sharding technology to boost speeds and lower costs.
NEAR could soon tumble by at least 25%.
The NEAR price has been under pressure this week. It has fallen in the past five straight days and moved to the lowest level since January 10th. It has dropped by over 28% below the highest level in January. As a result, the total market cap of the token has declined to about $9.16 billion.
Why has NEAR retreated?
For starters, the NEAR protocol is a leading blockchain project that seeks to be a viable alternative to Ethereum.
Its aim is to help developers launch decentralized applications (DAPPs) that perform better than those built using Ethereum.
It achieves this through what it calls Nightshade Sharding technology. Unlike in Ethereum where blocks are processed in full, NEAR breaks them down into parallel blocks known as shards. As smaller blocks, these shards help to improve the speed of the network.
NEAR Protocol is not yet using this technology. It launched Phase 0 of the rollout in November last year. And this year, the protocol will launch phase 1 and 2.
For a long time, NEAR was a relatively unknown blockchain platform that was among the top 50 of the biggest coins in the world. Recently, however, the embrace of the sharding technology and the headlines that ensued have made NEAR one of the most popular coins in the world.
Today, the total market cap of all NEAR tokens is at $9.1 billion, making it the 21st biggest coin in the world.
Recently, however, the NEAR price has declined sharply as investors reflect on the ongoing risks to the blockchain industry. Some of these risks are on regulations while others are on interest rates.
On regulations, the Central Bank of Russia announced this week that it will recommend for the government to ban cryptocurrencies. On rates, the Federal Reserve, Bank of England, and even the European Central Bank (ECB) have hinted that they will start raising interest rates.
NEAR price prediction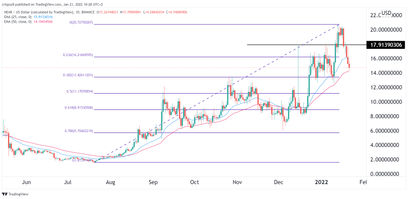 The daily chart shows that the NEAR Coin price has been in a sharp downward trend in the past few days. The coin has managed to move below the 25-day and 5o-day moving averages while the Relative Strength Index (RSI) has been in a sharp bearish trend.
It has also moved below the 23.6% Fibonacci retracement level. Therefore, there is a likelihood that the NEAR price will keep falling in the near term. If this happens, the next key level to watch will be at the 50% retracement level at $11, which is about 25% below the current level.
1
Minimum Deposit
$200
Exclusive Promotion
More than 3,000 assets, including currencies, stocks, cryptocurrencies, ETFs, indices and commodities
Buy crypto, or trade cryptocurrencies via CFDs
This ad promotes virtual cryptocurrency investing within the EU (by eToro Europe Ltd. and eToro UK Ltd.) & USA (by eToro USA LLC); which is highly volatile, unregulated in most EU countries, no EU protections & not supervised by the EU regulatory framework. Investments are subject to market risk, including the loss of principal.
2
Minimum Deposit
$100
Exclusive Promotion
3
Minimum Deposit
$100
Exclusive Promotion
4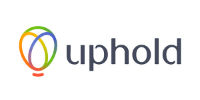 Minimum Deposit
$1
Exclusive Promotion
5
Minimum Deposit
$50
Exclusive Promotion
Trade and invest in over 25 cryptocurrencies
Extremely simple user interface
Over 68 million customers
If you want to trade cryptocurrencies, you might be interested in automated cryptocurrency trading robots such as Bitcoin Prime, Bitcoin Era and Bitcoin Code.

Crispus Nyaga
Crispus is a financial analyst with over 9 years in the industry. He covers cryptocurrencies, forex, equities, and commodities for some of the leading brands. He is also a passionate trader who operates his family account. Crispus lives in Nairobi with his wife and son.