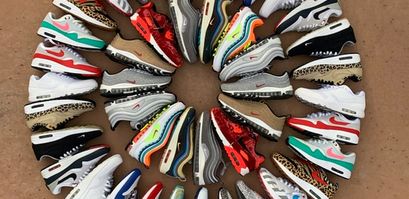 Sneakmart launches NFT mystery sneakers box collection

Daniela Kirova
Last updated 12th Apr 2022
Sneakmart is at the heart of the ever-expanding limited-edition sneaker industry
Collection will give sneakerheads access to more affordable mystery boxes with digital sneakers
Sneakmart has launched Metakicks, an NFT mystery sneakers box collection, lending the space a new dimension through limited-edition footwear with Web3 implications, the Bitcoin News reported.
6 billion resale market
Sneakmart is a French startup-up with a focus on streetwear, which has found itself at the heart of the ever-expanding limited-edition sneaker industry. Last year, sneakers were a 6 billion resale market as fans and collectors purchase and resell limited-edition pairs on secondary markets. Supply, demand, and scarcity can drive the price of sneakers up threefold or more.
Metakicks combines NFT technology with sneaker madness. Sneakmart CEO and co-founder Anthony Debrandt said in a press release:
Sneaker addicts love to collect and wear a lot of sneakers. Everyone loves sneakers today, everyone wears them. With Metakicks, we want to give the opportunity to start collecting digital sneakers through unique designs.
Affordable mystery boxes
The collection will give sneakerheads access to more affordable mystery boxes with digital sneakers. Nobody will know what they are getting at first. Furthermore, they can keep the box closed and resell it on the secondary market or open it and show off their digital sneakers.
15 designs, 4 rarity degrees
The mystery boxes come in 15 unique designs, four degrees of rarity (epic, super rare, rare, and normal), and 3D animations. Each pair is linked to a specific universe and will allow its owner to stand out. There are even some unique edition designs. An example is the pair designed for Didier Drogba, a retired world-class soccer player.
Lucrative and high-profile partnerships
Sneakmart has secured lucrative and high-profile partnerships with brands and celebrities to develop the collection. One of the partners is Savoir Faire Paris, a French bespoke sneakers creator. The owner of this unique NFT will receive the Jordan 1 off-White Coffee Latte designed specifically for this drop.
High-quality physical pairs also available
Participants have a 10% chance of winning a physical sneaker when purchasing an NFT mystery box. Models include Jordan 4, Adidas Yeezy 350, Jordan 1 High, Nike Dunk Low, and Jordan 1 High Dior. Four pairs of Jordan were created in collaboration with Travis Scott.
First drop includes 6,000+ boxes
The first drop will include a total of 6,250 boxes and will take place in February 2022. The startup wants to close the gap between digital and physical sneakers to make fans and collectors pioneers of future fashion trends.
Daniela Kirova
Daniela is a writer at Bankless Times, covering the latest news on the cryptocurrency market and blockchain industry. She has over 15 years of experience as a writer, having ghostwritten for several online publications in the financial sector.