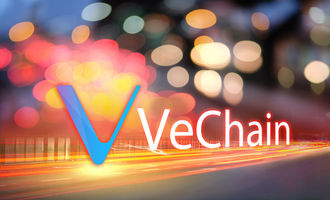 VeChain price prediction: Will VET ever bounce back?

Crispus Nyaga
Last updated 12th Apr 2022
VeChain price has been in a strong bearish trend in the past few months.
It has fallen by over 80% from its highest level in 2021.
We explain why it has fallen and what to expect in the near term.
The VeChain price has not been left behind in the ongoing cryptocurrency sell-off. VET, its native token, is trading at $0.045, which is the lowest it has been since March 7. It has declined by over 80% from its all-time high while its total market capitalization has dropped to about $2.85 billion.
Cryptocurrency sell-off
VeChain is one of the biggest Asian cryptocurrencies in the world. It was started by a Chinese computer scientist and is currently headquartered in Singapore.
In the first half of 2021, VeChain was one of the most popular cryptocurrencies among investors. Its Google searches were surging while the number of social media mentions were at elevated levels as well.
Recently, however, the VeChain price has collapsed by over 80% and its ranking among cryptocurrencies has tumbled. At its peak, VeChain was among the top 20 biggest coins in the world. Today, its ranking has dropped to about 40.
There are several reasons why VeChain has dropped. First, unlike other cryptocurrencies like Ethereum, Fantom, and Avalanche, it is not an easy-to-understand platform. It is a blockchain platform in supply-chain management, an area that many people don't have an understanding about.
Second, while VeChain has partnered with leading companies like Walmart and LVMH in China, seeing what these companies are doing with it is a bit difficult.
Third, the fact that it is not offered by leading cryptocurrency exchanges like Coinbase means that many willing investors don't have access to the coin.
Finally, as a Chinese cryptocurrency, the exit from the market has made it difficult for investors to allocate funds to the coin.
Meanwhile, the VET price has declined because of the rising regulatory and monetary policy concerns. Investors are simply concerned about high-interest rates and the recent hints that Russia could ban cryptocurrencies.
Will the VeChain price recover?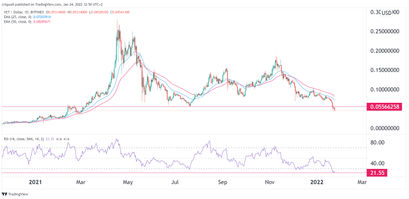 The daily chart shows that the VET price has been in a strong bearish trend in the past few months. As a result, the coin has managed to move below the important support level at $0.0556, which was the lowest level in July last year.
VeChain has also moved slightly below the 25-day and 50-day moving averages while the Relative Strength Index (RSI) has moved to the most oversold level on record.
Therefore, in the near term, the VeChain price will continue with the bearish trend. However, in the long-term, a bullish rebound cannot be ruled out as investors buy the dips.
If you want to trade cryptocurrencies, you might be interested in automated cryptocurrency trading robots such as Bitcoin Prime, Bitcoin Era and Bitcoin Code.

Crispus Nyaga
Crispus is a financial analyst with over 9 years in the industry. He covers cryptocurrencies, forex, equities, and commodities for some of the leading brands. He is also a passionate trader who operates his family account. Crispus lives in Nairobi with his wife and son.