The Avalanche price has bounced back in the past few days.
We explain why it could struggle to maintain the trend in February.
The Avalanche price has crawled back in the past few days. The $AVAX token is trading at $73.30, which is about 37% above the lowest level in January. Avalanche has a market capitalization of more than $17 billion, making it the 12th biggest cryptocurrency in the world.
AVAX review
January was a difficult month for Avalanche and other Ethereum-killers like Solana and Polkadot. The AVAX price continued a sell-off that started in November when its price jumped to an all-time high of $151. Today, the coin is about 52% below its all-time high.
There are several reasons why the Avalanche price has retreated in the past few months. The most important one is that the Federal Reserve has announced that it will be more hawkish this year. This means that the central bank will deliver at least three rate hikes this year. It will also end its quantitative easing policy in March this year.
A hawkish Fed is usually bad for risky assets like cryptocurrencies, housing, and even stocks. Indeed, the Dow Jones, Nasdaq 100, and S&P 500 had their worst January in decades while the 10-year yield rose to the highest level in 2 years.
Second, the Avalanche price has declined because of the performance of its network. The number of apps built using the network has been on an upward trend in the past few months. These apps include the likes of Aave, Curve, Sushi, Trader Joe, and even SushiSwap. However, according to DeFi Llama, the total value locked (TVL) in the ecosystem has declined by more than 20% in the past 30 days to $9.62 billion.
Third, the AVAX price has dropped because of the Wonderland crisis. In the past few days, the DeFi network has struggled after it emerged that it was being run by a co-founder of QuadrigaCX. Quadriga made headlines when its CEO died, leading to millions of losses. Wonderland was built using Avalanche network.
Avalanche price prediction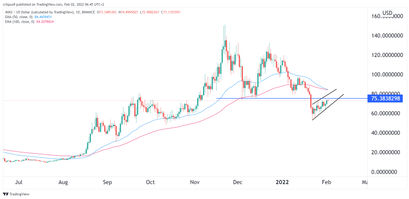 In my previous prediction of Avalanche, I warned that the coin could crash to about $60. It did.
The daily chart shows that the AVAX price formed what looks like a double-top pattern whose neckline is at $75.38. In price action analysis, a double-top pattern is usually a bearish sign. Now, the coin has formed what looks like a rising wedge pattern.
The pattern can also be seen as a bearish flag, which is usually a warning sign. It has also done a break and retest pattern by moving to $75.38. Therefore, there is a likelihood that the Avalanche price will experience some weakness in February.
If you want to trade cryptocurrencies, you might be interested in automated cryptocurrency trading robots such as Bitcoin Profit, Bitcoin Revolution and Bitcoin Trader.
Author Bio

Crispus Nyaga
Crispus is a financial analyst with over 9 years in the industry. He covers cryptocurrencies, forex, equities, and commodities for some of the leading brands. He is also a passionate trader who operates his family account. Crispus lives in Nairobi with his wife and son.