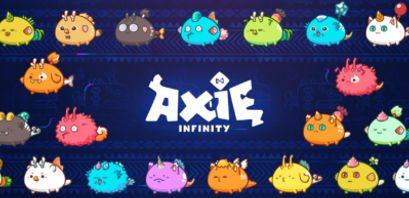 Axie Infinity price prediction: What next for AXS after the weekend rally?

Crispus Nyaga
Last updated 23rd Sep 2022
The Axie Infinity price jumped sharply during the weekend.
The rally was attributed to the change of the PVP reward structure.
The Axie Infinity price had a great weekend. Its AXS token has risen in the past four straight days as its demand jumps. It is trading at $70.30, which is about 58% above the lowest level this year.
Metaverse coins jump
Axie Infinity is not the only cryptocurrency that did well during the weekend. Other metaverse coins like Gala Games, Decentraland, and Sandbox were among the best performers.
The AXS price rally accelerated as the market sentiment improved following the release of strong US non-farm payrolls (NFP) data and Amazon earnings. The same happened with major coins like Dogecoin, Ethereum, and Bitcoin.
The main catalyst for the Axie Infinity price rally was the decision by developers to revamp its player-vs player (PVP) reward structure. They also announced that they will reduce the supply of the Smooth Love Portion (SLP) tokens by about 56%.
Most importantly, the AXS token jumped as investors waited for the upcoming season that will see some changes. For example, the developers announced that they will sunset the adventure mode and the daily quest.
There will be several changes in PVP costs in the coming season. For example, the developers decided to expand the number of leaderboard slots to 300k and hiked the amount of AXS being offered o 117,676. The goal is that these incentives will lead to more demand for the AXS token.
In the previous seasons, the network distributed 3,000 AXS to the top 1,000 players. At the same time, the amount distributed to stakers each month was 1.5 million AXS. The developers said:
"We believe that these economic changes will allow us to start righting the ship and getting the economy moving in the right direction. We know that it will be key to execute on delivering new burn mechanisms this year."
Therefore, analysts believe that the new allocation structure will be a positive thing for the Axie Infinity price.
Axie Infinity price prediction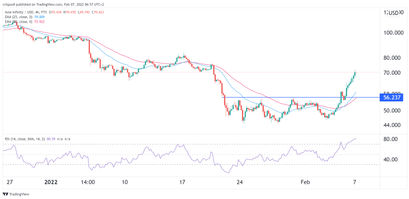 The four-hour chart shows that the AXS token price has been in a strong bullish trend lately. Along the way, it has managed to move above the key resistance level at $56.23, which was above the highest level on January 23rd.
The coin has also moved above the 25-day and 50-day moving averages while the Relative Strength Index (RSI) has been rising. Therefore, the coin will likely maintain a bullish trend as bulls target the key resistance at $80.

Crispus Nyaga
Crispus is a financial analyst with over 9 years in the industry. He covers cryptocurrencies, forex, equities, and commodities for some of the leading brands. He is also a passionate trader who operates his family account. Crispus lives in Nairobi with his wife and son.