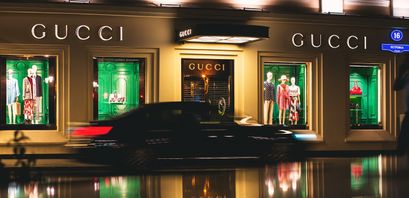 Gucci doubles down on its metaverse plans; Buys land in The Sandbox

Jinia Shawdagor
Last updated 11th Aug 2022
Gucci did not disclose the amount of land it purchased in the game or how much it spent.
The luxury brand seeks to create metaverse experiences based on items listed on Gucci Vault.
Gucci also plans to release fashion items for Sandbox players to purchase and wear in the game.
High-end luxury fashion house Gucci has bought virtual land in The Sandbox, an Ethereum-based game. The company unveiled this news via Twitter on February 9. Gucci, however, failed to disclose the amount of virtual land it purchased in the metaverse game or how much it spent.
Reportedly, the luxury brand intends to create themed experiences on The Sandbox. The experiences will be based on items on the Gucci Vault, an online concept store based on the vision of Gucci's Creative Director, Alessandro Michele. The platform lists items like Gucci-themed NFTs, vintage clothes, and bags.
Apart from creating a fashion-focused space in the metaverse, Gucci will also release fashion items for Sandbox players. The players can purchase and wear these items in the game.
Lauding Gucci's plans, Sebastien Borget, The Sandbox's co-founder and COO, said,
For a new generation of players, virtual fashion is as important as real-life fashion.
Gucci's fascination with the virtual world
This news comes after Gucci teamed up with Roblox developers to roll out an official clothing collection in December 2020. The fashion house also built a virtual space titled Gucci Garden Experience on Roblox. These virtual items ended up being resold for thousands of dollars, prices comparable to those of actual Gucci bags.
With Gucci moving on to The Sandbox, it cements its position as a web3 leader in the fashion industry. The deal with Roblox did not include cryptocurrencies. However, to purchase land on The Sandbox, the firm used the network's native token, The Sandbox (SAND).
Before diving this deep into web3, Gucci became the first luxury brand to release an NFT in June last year. Dubbed GUCCI (EST. 1921), the NFT fetched $25,000 in a Christie's auction. Following the success of this project, Gucci teamed up with SUPERPLASTICS, the creator of animated celebrities and digital vinyl toys, to launch SUPERGUCCI NFTs. The collection is set to drop this month.
Jinia Shawdagor
Jinia is a fintech writer based in Sweden. With years of experience, she has written about cryptocurrency and blockchain for renowned publications such as Cointelegraph, Bitcoinist, Invezz, etc. She loves gardening, traveling, and extracting joy and happiness from the little things in life.