iMac emits the most CO2 amongst Apple's flagship products.
The product's 824 kg CO2e comes when the firm has cut 40% of its emissions.
iMac tops the emissions list for Apple's flagship products. Recent data compiled by bankless times shows the product emits 824 kg of CO2. That figure is 48% of the flagship products' 1701 kg emissions.
iMac's emissions double those of Apple's premier laptop, the MacBook Pro. The MacBook Pro emits 394 kg of CO2. Other products with triple figures are HomePod and the fifth-generation iPad Pro. The former discharges 146 kilograms of CO2 while the latter does 138Kg.
Again, the study considered iPhone 13 Pro Max, Apple TV 4K, Apple Watch 7 Series 7, and iPod touch 7th generation. The four emit a combined 199kg of carbon dioxide.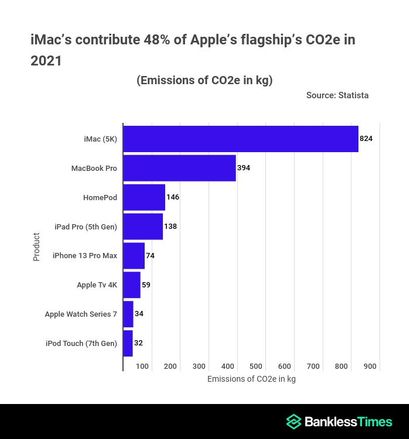 Apple's sustainability push
The report comes when Apple is pursuing sustainable production. The firm has initiated a net-zero drive push. It intends to attain the same carbon neutrality in all its products by 2030.
Further, Apple reports that in the last five years, it has reduced its emissions by 40%. It owes that feat to the adoption of renewable energy resources. These include wind and solar power, among other sustainable means.
Additionally, the firm has ramped up recycling in its manufacturing. The motivation is to manufacture its products from renewable or recycled materials only.
It also uses 100% recycled materials for the internal components of its products. Such include logic boards, magnets, Tapic Engines, and battery management units.
Greening Apple
Using recycled materials in the iPhone 13 models, Apple has saved 2.6M metric tons of mined rock equivalent. Moreover, the phone uses 90% less plastic than iPhone 6S. The iPhone 6S production marked the transition of Apple's transforming its packaging from plastic. The firm aims to make its packaging plastic-free by 2025.
Apple also runs a program that tackles E-waste. The Apple Trade-In program incentivizes users to turn in their old devices gifts and credit to acquire new devices. Their old ones can then get new ownership or undergo refurbishment at no cost.
The firm's greening doesn't stop within. It has also extended the initiatives to its associates. Today 175 of its suppliers have undertaken to use sustainable means of production.
This association will see Apple and its associates add more than 9 gigawatts of electricity to the global grid. That will save over 18M CO2 emissions. Comparatively, the figure works out to eliminating 4M motor vehicles off our roads annually.
The company is also expanding its power for impact initiative. The engagement will seek to bring clean energy solutions to the global communities. Through these projects, under-resourced economies will reap from renewable power. The objective is to spur economic growth and
social impact.
Author Bio

Elizabeth Kerr
Elizabeth is a financial content specialist from Manchester. Her specialities include cryptocurrency, data analysis and financial regulation.