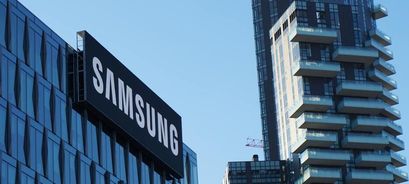 Samsung Electronics is the World's Largest Patent Holder at 90,416

Elizabeth Kerr
Last updated 31st Jan 2023
Samsung, the South Korean electronics manufacturer, held the most patents for 2021.
The firm held over 90K patent families, putting it at the helm of the global IP rights table.
South Korean electronics giant Samsung Electronics holds the highest number of patents globally. That has emerged from a recent data compilation by Bankless Times.
According to the data, Samsung's portfolio of patents stands at 90,146 families. Patent families are an assortment of global Intellectual Property filings pertaining to a particular innovation.
Patent activity is a vital metric to investors, analysts, and scholars. It reveals a firm's financial health as its intellectual property portfolio typifies its value.
The measure points to any company's research and development (R&D) strategies and efficiencies, its competitiveness within its space, and underlying worth.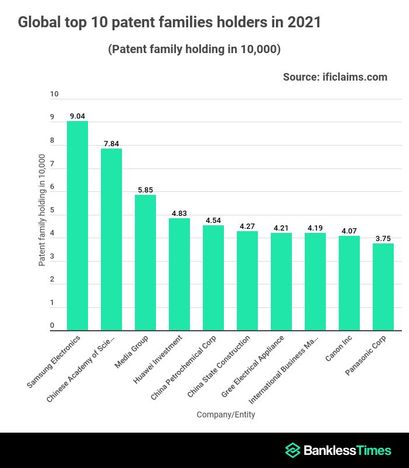 China's dominance
The presentation compared 250 global companies. It revealed that Asian companies dominate the top ten positions on the list. Of these, Chinese firms reigned supreme. They occupied six of the ten spots. In contrast, the U.S, South Korea had one company each, while Japan had two.
China's Academy of Science (CAS) ranked second with over 78K patents. Midea Group and Huawei Investment and Holding company followed in the third and fourth spots. The former owns about 58K patents while the latter's being nearly 48K.
America's only representative in the top ten, IBM placed eighth. The information technology behemoth owns nearly 42K IP rights. Japanese firms Canon and Panasonic wrap up the top ten with 40,706 and 37,538 patents, respectively.
A deep dive into the data indicates that China holds 29% of the worldwide 250 patent families. In comparison, the U.S and Japan have 24 and 19 percent each. China's dominance is indicative of a serious investment in IP driven by a culture of R&D.
How's the American patent landscape?
Turning to the U.S, the report has revealed where corporates have prioritized their R&D efforts. The sectors with significant investments are telemedicine, food and agriculture, and mitigating climate change.
Besides those, there's also significant interest in advancing the supply chain. Here efforts centered on real-time monitoring of goods from production lines to the final consumer.
Moreover, the study revealed that the number of patent grants in the U.S has been dropping. In the last decade, patent grants decreased by about 7%. They also fell by 1% in 2021 from their 2020 level. Similarly, published IP applications fell from about 413K to 410K, a 1% dip.
Analysts opine that several factors explain the declines in IP applications and acquisition. One of these is the COVID-19 induced economic downturn. Nevertheless, corporations have braved the challenging economic environment to continue innovating.

Elizabeth Kerr
Elizabeth is a financial content specialist from Manchester. Her specialities include cryptocurrency, data analysis and financial regulation.