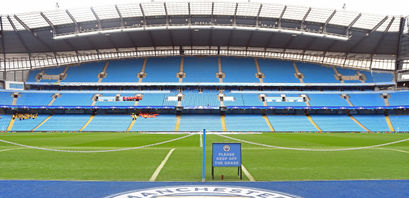 Manchester City and Sony tie to build Etihad Stadium in the metaverse

Jinia Shawdagor
Last updated 15th Dec 2022
Sony's virtual reality experts have already started mapping Etihad Stadium.
The experts will use image analysis and skeletal-tracking technology from Hawk-Eye.
Per Nuria Tarre, the metaverse might become mainstream in the next five to 10 years.
The current champion of the English Premier League, Manchester City, has signed a three-year agreement with Sony to build the virtual version of its home stadium, Etihad. A report unveiled this news on February 18, noting Sony's virtual reality experts will use image analysis and skeletal-tracking technology from the company's subsidiary, Hawk-Eye.
According to the report, Sony's experts have already visited Etihad to map the stadium and commence construction.
Manchester City's decision to create a virtual replica of the Etihad Stadium stems from the club's desire to offer fans who might never get to visit Manchester physically a chance to watch live games from the comfort of their homes. The club also hopes to allow fans to interact with players and one another.
Elated about these plans, Nuria Tarre, City Football Group's Chief Marketing, and Fan Engagement Officer, said,
The whole point we could imagine of having a metaverse is you can recreate a game, you could watch the game live, you're part of the action in a different way through different angles and you can fill the stadium as much as you want because it's unlimited, it's completely virtual.
She added that building a metaverse version of Etihad Stadium would offer fans unprecedented control over how they watch games. Considering virtual reality does not broadcast one point of view, fans would be able to watch games from any angle in the stadium.
Plans to unlock new metaverse milestones
At the moment, users access the metaverse through a headset and navigate virtual worlds with hand controls. Developers claim the technology can allow for the replication of a match to create a digital version that looks similar to the FIFA video game. However, they believe users can watch real games within a virtual stadium in the future.
Andy Etches, the co-founder of Rezzil, a firm that developed the metaverse game Player 22, which Premier League clubs use to train players, said unlocking such a feat is not too far off. While he claims it is possible to introduce such a version now, he noted that it would be computer-generated.
Predicting how soon it would take for the metaverse to go mainstream, Tarre said,
I think the traditional image of someone sitting on a sofa, watching a screen, is something we cannot imagine is going still be the reality not even in 10 years, maybe in five years' time already. Things move much faster than we think.
Jinia Shawdagor
Jinia is a fintech writer based in Sweden. With years of experience, she has written about cryptocurrency and blockchain for renowned publications such as Cointelegraph, Bitcoinist, Invezz, etc. She loves gardening, traveling, and extracting joy and happiness from the little things in life.