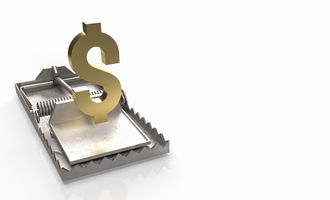 W3M token developers drain 625 BNB worth $235K

Daniela Kirova
Last updated 12th Apr 2022
Five hours after it was issued, its anonymous developers pulled its trading liquidity
The price of W3M almost went down to zero after the pull
Developers behind Web3Memes (W3M), a meme coin running on Binance Smart Chain, drained the token's liquidity pools of nearly 625 Binance Coins (BNB), blockchain security firm PeckShield reported today. This amount corresponds to approx. $235,000, CoinDesk reported.
PeckShield tweeted about the exploit:
PeckShield has detected $Web3Memes rugged. (Address) has deposited 625 BNB to TornadoCash. Stay AWAY from tokens that are deployed by funds withdrawn from TornadoCash.
1,800 transactions in just a few hours
W3M was created early today and listed on BSC-based PancakeSwap soon thereafter. Over the next few hours, W3M saw over 1,800 transactions. More than 1,000 people were holding the coin.
Five hours after it was issued, its anonymous developers pulled its trading liquidity in a classic rug pull.
What is a rug pull?
Developers carry out social media marketing, launch a working app, or conduct other seemingly legitimate work on a blockchain. Then, they issue a token and list it on a decentralized exchange (DEX). Tokens like Web3Memes can be issued by anyone on Binance Smart Chain, Ethereum Mainnet, and other networks.
The scam starts with the listing
Investors buy the token, hoping its price will increase, giving the project liquidity. Liquidity is provided in ERC20 tokens if the project runs on the Ethereum Mainnet, Binance Coin for BSC, SPL for Solana, etc. More interestingly, it can run into millions of dollars.
After the project has been live for a certain period of time, the pool can accumulate as much as hundreds of millions. Then, the scammer strikes, taking the liquidity out of the DEX and making away with all the money.
When this happens, the price of the token will plummet. For example, the price of W3M almost went down to zero after the pull.
$2.8B was lost to rug pulls last year
Chainalysis reported that investors lost more than $2.8 billion to rug pulls in 2021. Rug pulls accounted for over a third of all scam revenue in 2021, compared to just 1% the previous year. Predictably, the increase in scams reflected an overall increase in cryptocurrency prices.
Biggest rug pulls in history
The biggest rug pull in history was of Turkish crypto exchange Thodex, the only centralized exchange to suffer this type of attack. The exchange lost more than $2 billion in investor funds in April last year.
The second biggest was Dogecoin-inspired AnubisDAO, which lost $58 million. Rounding out the top three is BSC-based Uranium Finance, whose users parted with $50 million.
Daniela Kirova
Daniela is a writer at Bankless Times, covering the latest news on the cryptocurrency market and blockchain industry. She has over 15 years of experience as a writer, having ghostwritten for several online publications in the financial sector.