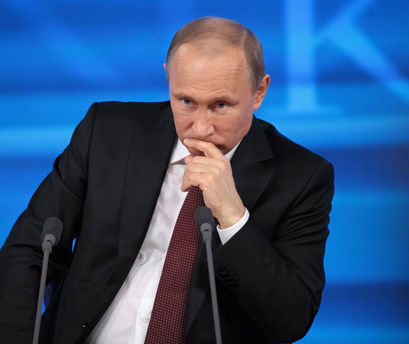 Bitcoin price prediction as Biden leaves out Swift in his Russia sanctions

Crispus Nyaga
Last updated 5th Aug 2022
Bitcoin price has been in a strong bearish trend in the past few weeks.
President Biden announced that he will exclude Swift from sanctions.
The Bitcoin price dropped sharply on Thursday as Vladimir Putin launched an attack on Ukraine. It fell to a multi-week low of $34,470, which was about 43% below its all-time high. It then started rebounding after Biden announced its set of sanctions on Russia.
Biden avoids Swift sanctions
In a press conference on Thursday, President Biden announced a set of sanctions that are intended to punish Russia for invading Ukraine.
The sanctions will go far and beyond to cut off Russia from the international world. For example, the country's biggest banks have been sanctioned, meaning that they will not have access to US dollars.
The US also announced a series of sanctions on some of the wealthiest people in Russia. The comprehensive list of those who will be sanctioned will come out soon.
However, the sanctions list avoided two key issues. First, Biden did not sanction President Vladimir Putin himself as was widely expected.
Second, he did not add the Swift financial system in the sanctions list. Swift is the powerful messaging platform that most global banks use to facilitate funds transfer globally. If Biden had cut Russia from the system, it would have meant that many Russians would have been unable to send and receive money from other countries.
The main reason why Swift was not included in the list is that European allies were hesitant because of their countries' dependence on Russia for energy. Also, Biden noted that adding Swift was not necessary since the new sanctions affected the country's biggest banks.
Analysts believe that by using its sanctions power aggressively, the US is putting its dollar dominance at risk. For example, China has already created an alternative to Swift that other countries are currently using.
Further, if he had put Swift on the list, it means that many people in Russia would have embraced alternative currencies like Bitcoin.
What about the Fed?
Some analysts believe that the crisis in Ukraine will be net positive for Bitcoin prices because of the impact on the Federal Reserve.
The theory goes that the crisis could affect the American and the global recovery, which will push the Fed to slow down on rate hikes.
While there is merit to this view, the reality is that the Fed will likely be more aggressive. For one, the crisis will lead to higher inflation since Russia is one of the biggest sellers of grains, energy, and fertilizer. Therefore, there is a likelihood that the Fed will deliver more hikes in its bid to prevent hyperinflation.
Bitcoin price prediction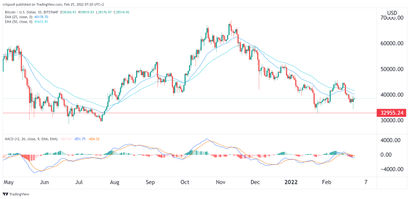 The daily chart shows that the BTC price crashed to a low of $32,955 early this month. This week, the coin dropped to about $34,500 as Russia invaded Ukraine. The coin remains below the 25-day and 50-day moving averages while the MACD is below the neutral level.
Therefore, despite the modest reprieve, the overall outlook of the Bitcoin price is a bit bearish. If this happens, the next reference level to watch will be this month's low of $32,955.
Trade with a cryptocurrency robot
Cryptocurrency robots are software tools that trade top cryptocurrencies using algorithms on your behalf. These robots usually partner with the best cryptocurrency brokers to provide the best trading experience. Below are some of the best cryptocurrency robots in the industry:
Quantum AI: Quantum AI is a cryptocurrency robot allowing you to trade BTC, USDT, LTE, XRP with a minimum deposit of $250. It offers automated trading features that do not require any trading knowledge.

Immediate Edge: Immediate Edge is one of the top crypto bots, allowing you to trade BTC, ETH, XRP, LTC and more, along with GBP, EUR, USD fiat currencies. Immediate Edge takes 2% commission on profits and claims 99% win rate. Immediate Edge gives beginners an excellent opportunity to explore contract-for-difference trading with some of the best Bitcoin brokers in their country.

Bitcoin Era: Bitcoin Era allows you to trade BTC, BCH, ETH, LTC, BTG, ZEC and 8 more top cryptocurrencies. Bitcoin Era claims to have a powerful AI algorithm developed to carry out profitable trading strategies. It comes with a minimum $250 deposit and no trading fees.

Crispus Nyaga
Crispus is a financial analyst with over 9 years in the industry. He covers cryptocurrencies, forex, equities, and commodities for some of the leading brands. He is also a passionate trader who operates his family account. Crispus lives in Nairobi with his wife and son.