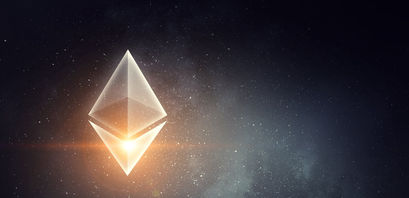 Ethereum price prediction as transactions makes a comeback

Crispus Nyaga
Last updated 5th Aug 2022
Ethereum price has retreated in the past few hours.
There are concerns about the Federal Reserve and rising competition.
Ethereum price retreated slightly on Thursday morning as the remarkable recovery paused. The coin is trading at $2,897, which is slightly below this week's high of $3,047. Its total market cap has eased slightly to about $348 billion.
Cryptocurrencies retreat
Ethereum and other cryptocurrency prices have done well this week as investors have reflected on the ongoing crisis in Europe. This performance helped push the total market cap of all cryptocurrencies to over $2 trillion for the first time in months.
On-chain data show that Ethereum's network has done well in the past few days. For example, in the decentralized finance (DeFi) industry, its total value locked has jumped to more than $117 billion. This figure has risen by more than 1.3% in the past 30 days.
Still, many competitors like Terra, Fantom, and Osmosis have seen their TVL jump by more than 40% in this period. Additional data shows that the number of Ethereum transactions has been in a bullish trend in the past few days as you can see in the chart below.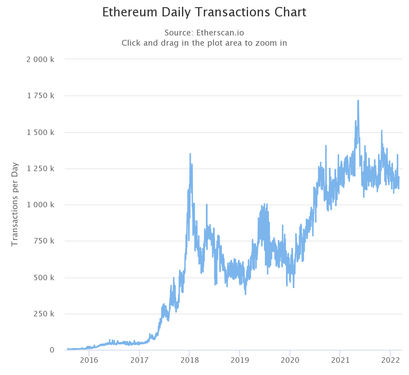 However, there are some challenges that Ethereum is facing. First, there is the fear that the Federal Reserve will embrace a more hawkish tone even as stagflation fears remain. In a statement on Wednesday, Jerome Powell reiterated that the Fed will be cautious when it starts hiking interest rates this month. He hinted that the first hike will be 25 basis points.
The next big challenge for Ethereum is that many developers and users are opting for competing products because of the rising transaction costs in the ecosystem. This explains why blockchain platforms like Terra and Solana have been seeing rising demand.
Finally, there is the challenge of regulations as the crisis in Ukraine continues. Analysts expect that more regulators will eye crypto transactions in a bid to bar people from evading sanctions.
Ethereum price prediction
The four-hour chart shows that the ETH price has been under pressure in the past few hours. A closer look shows that the coin is approaching the key support level at $2,857, which was the lowest level on February 14th. This could be a sign of a break and retest pattern, which is usually a bullish sign.
Ethereum price is also above the 25-day and 50-day moving averages. Therefore, there is a likelihood that the coin will resume the bullish trend in the near term.

Crispus Nyaga
Crispus is a financial analyst with over 9 years in the industry. He covers cryptocurrencies, forex, equities, and commodities for some of the leading brands. He is also a passionate trader who operates his family account. Crispus lives in Nairobi with his wife and son.