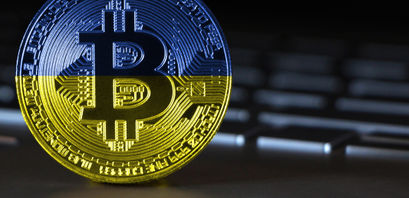 Ukraine raises $50M in crypto since start of invasion

Daniela Kirova
Last updated 29th Jun 2022
Government spent $15 million in donated crypto on military equipment
Most of the donations are in Bitcoin and Ethereum, govt to double the funds raised to $100 million
Two-fifths of suppliers willing to accept payments in cryptocurrency
The Ukrainian government announced that it has raised $50 million in cryptocurrency since Russia invaded Ukraine, world media reported. So far, the government has spent $15 million of it on military supplies.
On Friday Alex Bornyakov, Ukraine's deputy minister of digital transformation, told Bloomberg his government has spent $15 million in donated crypto on military equipment such as bulletproof vests. He confirmed the military gear had been delivered in a Zoom interview from an undisclosed location in Ukraine.
Mounting war efforts
The Ukrainian government is receiving more and more donations in cryptocurrency from the international community in the days since the war with Russia began. Mykhailo Fedorov, the vice prime minister of Ukraine and the minister of digital transformation, tweeted that the Ukrainian government had gathered $50 million in cryptocurrency within one week.
Most of the donations were in Bitcoin and Ethereum. Fedorov wants to double the funds raised to $100 million.
Ukraine started with night vision devices, food packages
Some of the first things the government ordered were vests, food packages, bandages, and night vision devices according to Fedorov. He shared that his ministry found suppliers of these items in Europe and the US just two days after Russia invaded his country.
Bornyakov pointed out that around two-fifths of suppliers were willing to accept payments in cryptocurrency. To pay the rest, the Ukrainian government converted crypto into fiat like euros and dollars.
Cryptopunk is 'hard to sell'
The ministry of digital transformation is cooperating with two companies to introduce a non-fungible token (NFT) collection as a means of raising more funds, world media added. According to the deputy minister of digital transformation, the collection could be ready in as little as two weeks. He commented:
No one was ready to do military NFTs, the war just started eight days ago, they are still trying to figure out how to do this in terms of design.
Some supporters of Ukraine have donated NFTs, he confirmed, including a Cryptopunk. However, Bornyakov added:
It's so hard to sell. We haven't used it at this point … We are going to keep it for now. … There's no time to figure out how to convert them. Maybe once things settle down, we'll figure this out.
The Cryptopunks are one of the earliest NFTs on Ethereum. They inspired the ERC-721 standard that powers most digital art and collectibles.
Daniela Kirova
Daniela is a writer at Bankless Times, covering the latest news on the cryptocurrency market and blockchain industry. She has over 15 years of experience as a writer, having ghostwritten for several online publications in the financial sector.