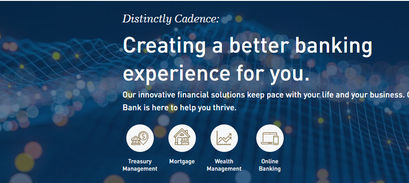 Cadence Bank is the fastest growing bank brand at 181% in 2022

Elizabeth Kerr
Last updated 15th Dec 2022
Cadence Bank is the fastest growing institution globally in 2022.
The bank registered a 181% brand value increase in 2021, beating 449 institutions to the top spot.
American bank Cadence is the fastest-growing financial institution globally. That's according to a data presentation by BanklessTimes.com. The site's analysis reveals that the bank grew by a whopping 181 percent in 2021.
BanklessTimes' presentation considered some top 500 banks globally. It looked into several parameters, one of which is brand value increase. The measure determines by what extent an institution has grown its value in a particular period.
Cadence's growth Vis a Vis its mergers
Cadence Bank's growth comes in the wake of its recent mergers. First off, its parent bank, BancorpSouth Bank, merged with legacy Cadence Bancorporation in October 2021. The latter was Cadence Bank N.A's parent company. Besides resulting in the creation of Cadence Bank, it created a 48 billion dollar institution.
Again, it completed two other mergers in May of 2021. The first one involved National United, whose parent company was National United Bancshares, Incorporated. The second involved FNS Bancshares, Inc, which before then owned FNB Bank. These mergers netted Cadence an additional $1.6 billion in assets.
But Cadence wasn't the only bank to record impressive results. Vietnam's MMBank followed suit with a growth of 113%. That earned it the second slot in the top ten banks with the most impressive brand value growths.
That growth saw it attain a brand value of $642 million. Analysts opine that the bank owes this success to its embracing innovation. The firm has invested significantly in the digital space. For instance, it is partnering with software giant Software AG to provide its customers with high-speed online services.
Polish bank mBank made it to the third spot. Its 105% brand value growth saw it attain a value of $999M. The bank is the country's premier internet bank. Its investment in the digital space has enabled it to ramp up its accessibility and efficiency.
Eastern banks' dominance
A deeper analysis of the data indicates dominance of Vietnamese and Polish banks in the brand value increase metric. Whereas Vietnamese banks accounted for four of the fastest-growing banks, their Polish counterparts did so for five of the top ten. In contrast, American bank Cadence was the only single showing from the West.
That said, the Brand Finance ranking indicated a dominance by Chinese banks. These accounted for a third of the total brand value. That amounted to $454B or a third of the global brand value.
Chinese banks weathered global drops in the last two years. Analysts suggest that the nation's timely response to the COVID -19 crisis contributed a lot to this. Additionally, the country's banks continually invested in digital products that enhanced their customer engagements with minimum disruptions.
The Chinese economy, too, had a role in this. Despite the trying domestic and global economic environment, it has been on an upward trajectory. China's GDP grew by over 10 % in H1 2921 alone.

Elizabeth Kerr
Elizabeth is a financial content specialist from Manchester. Her specialities include cryptocurrency, data analysis and financial regulation.