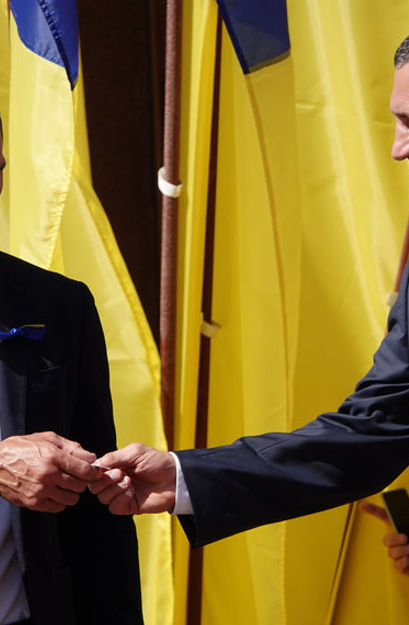 Wladimir Klitschko and artist WhIsBe launch historic NFT series to benefit Ukraine

Daniela Kirova
Last updated 29th Jun 2022
The NFT collection, titled "Vandalz for Ukraine", will feature four NFT editions of WhIsBe "Vandal Gummy" bears
Proceeds from the NFTs will go to UNICEF and Red Cross Ukraine to help the people of Ukraine
Wladimir Klitschko's brother Vitali Klitschko is Mayor of Kyiv
Wladimir Klitschko, the longest-reigning heavyweight boxing world champion in the world, is cooperating with top NFT artist WhIsBe and Metacurio, a leading NFT creative agency for world brands and top-tier talent on a historic NFT collection, Bankless Times learned from a press release.
Collection features 4 NFT editions of Vandal Gummy
The NFT collection will be titled "Vandalz for Ukraine" and will feature four NFT editions of WhIsBe "Vandal Gummy" bears in the colours of the Ukrainian flag. The drop will be hosted by leading NFT marketplace OpenSea.
NFTs sold in three price tiers
Three editions of "Vandal Gummy" bear NFTs will be on sale for $100, $1,000, and $10,000 respectively. Partners of the event will not charge fees as the funds will go toward a crucial cause. Bankless Times reminds that Ukraine raised $50 million in donations since the beginning of the war, mostly in Bitcoin and Ethereum.
Proceeds to support the people of Ukraine
The proceeds from the NFTs will go directly to UNICEF and Red Cross Ukraine to help the people of Ukraine during the war. The funds will be used to buy the things Ukraine needs most in its current defense against Russia.
Artist WhIsBe commented:
I'm grateful for the opportunity to be of service for the greater good. It's incredible to be able to use my art and this emerging technology to help others in need and provide immediate relief to any location in the world.
The notable artist has sold the first non-auction 7 figure NFT in history and is one of the top ten NFT artists in the world. His pseudonym, which is shorthand for "What is Beauty," reflects themes of cultural subversion and exploration, evident in many of his works.
Metacurio founders Sophie Watts and Jeff Hood made a joint statement:
This is not just a chance to own an astonishing piece of art history but, more importantly, an easy way to directly support the people of Ukraine who are in crisis right now. We are humbled to support this cause in every way possible.
Wladimir Klitschko added:
It is a magnificent initiative: a support through art, a superb "suppart" at the service of people who suffer. Art can be beautiful on many levels when used to serve humanity.
Wladimir Klitschko's brother Vitali Klitschko is Mayor of Kyiv, the besieged capital of Ukraine, and also a former world boxing champion.
Daniela Kirova
Daniela is a writer at Bankless Times, covering the latest news on the cryptocurrency market and blockchain industry. She has over 15 years of experience as a writer, having ghostwritten for several online publications in the financial sector.