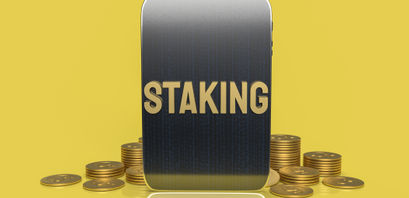 Staking startup Stader Labs raises $40M from public and private token sales

Daniela Kirova
Last updated 29th Jun 2022
Stader's staking innovations include one-click staking, decentralized staking, and more
Innovations will improve PoS network security and provide better financial opportunities, onboarding next billion users to staking
At the moment, you can stake LUNA to earn high rewards, APR is 10.56%, FTM and SOL staking coming
Cross-chain staking startup Stader Labs has closed its CoinList token sale, raising $23 million from 40,000 wallets. This brings the total raised from public and private sales to $40 million.
Broad support for staking innovations
The level of interest from retail and institutional investors is a great signal for broad-based community support of Stader's staking innovations, such as one-click staking, decentralized staking, and more.
One-click staking simplifies the process for token holders to stake across up to 10 validators to diversify and reduce network centralization. Decentralized liquid staking augments DeFi yields.
Other innovations include:
Staking rewards for entertainment

All-in-one APIs that streamline staking for exchanges

Staking platforms for institutions
These innovations will improve PoS network security, provide better financial opportunities, and onboard the next billion users into staking.
Amit Gajjala, CEO and Co-founder of Stader Labs, commented:
We're humbled at the support from our community, who believe in our mission of on-boarding the next billion users to staking. The team is already working to support every L1 PoS network and to expand our products to best serve both retail and institutional investors.
At the moment, you can stake LUNA to earn high rewards. The APR is 10.56%. Fantom and Solana staking is coming soon.
Among the strategic investors in Stader are Pantera, Coinbase Ventures, Three Arrows Capital, Blockchain.com, and Ledger Prime. Stader also partners with Solana Foundation and Terraform Labs.
Building key middleware PoS infrastructure
Stader is building the key staking middleware infrastructure layer for multiple PoS networks that will power the above staking-related opportunities while solving the key challenges. They are taking an extremely modular approach to building contracts so third parties can leverage their components to build several staking solutions on top.
Perfecting multichain staking
Stader is working to develop native staking smart contracts across multiple chains, including Terra and Solana. They are building an economic ecosystem to grow and develop solutions like YFI-style farming with rewards, launchpads, gaming with rewards, liquid staking solutions, and more.
The platform's longer-term goals include unlocking the platform approach and supporting third parties in developing staking-related applications on top of its infrastructure.
Validator selection
Stader takes care to ensure users' funds are staked with the best-in-class validators in the ecosystem. In order to be considered for Stader pools, validators need to meet threshold performance criteria.
Parameters like uptime and commission fees are key to curate validators for Terra. Each pool has a unique characteristic based on which validators are selected for that particular pool.
Daniela Kirova
Daniela is a writer at Bankless Times, covering the latest news on the cryptocurrency market and blockchain industry. She has over 15 years of experience as a writer, having ghostwritten for several online publications in the financial sector.