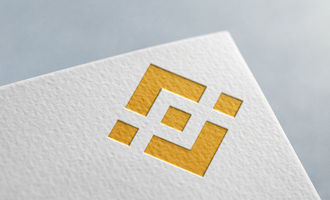 BNB price prediction as ecosystem growth slows dramatically

Crispus Nyaga
Last updated 5th Aug 2022
The BNB price has dropped sharply in the past few weeks.
The total value locked in its ecosystem has declined sharply recently.
The BNB price has been under pressure lately as concerns about its ecosystem remain. The coin is trading at $365, where it has been in the past few days. This price is about 47% below the highest point in November 2021, bringing its total market capitalization to over $61 billion.
BNB Chain ecosystem growth challenges
BNB Chain, formerly known as Binance Smart Chain (BSc), is a leading blockchain platform that was developed by Binance. Binance is the biggest company in the cryptocurrency industry with over 90 million users from around the world.
The goal of BNB was to help developers build decentralized applications in industries like DeFi, metaverse, and non-fungible tokens (NFTs). It aimed to be a better platform than Ethereum, which is known for its slow speed and high energy costs.
For example, while Ethereum handles less than 20 transactions per second (tps), BNB is able to process about 40 transactions in the same period. Because of its association with Binance and the fact that it had better features, many developers embraced it.
However, recently, there are signs that the growth of the BSc ecosystem is slowing. According to DeFi Llama, the network has a total value locked (TVL) of about $11.5 billion. At its peak in 2021, it had a TVL of over $30 billion. As a result, BNB has been overtaken by Terra to become the third biggest chain in the world.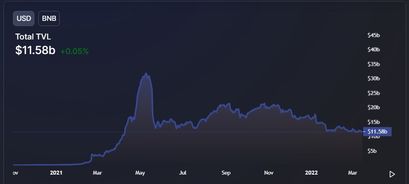 A closer look at its ecosystem shows that the money locked in most apps has been falling. For example, the TVL of Tranchess has dropped by over 37% in the past 30 days. Similarly, that of PancakeSwap and Venus has dropped by more than 10%.
A possible reason is that there are many Ethereum-killers that are offering better solutions than BNB. For example, Avalanche is able to process over 4,500 transactions per second.
BNB price forecast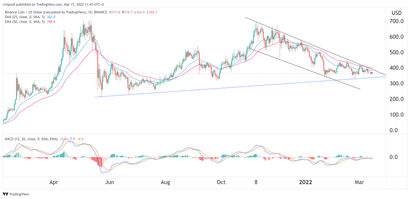 The daily chart shows that the BNB price has been in a strong bearish trend in the past few weeks. In this period, it has fallen by almost 50%. Along the way, it has formed a descending channel that is shown in black and is currently at the upper side of this channel. It has also moved below the 25-day and 50-day moving average.
BNB has also formed a symmetrical triangle pattern, which is currently nearing its confluence level. Therefore, there is a likelihood that the coin will have a breakout in either direction this week. A break below the support at $328 will lead to more weakness.

Crispus Nyaga
Crispus is a financial analyst with over 9 years in the industry. He covers cryptocurrencies, forex, equities, and commodities for some of the leading brands. He is also a passionate trader who operates his family account. Crispus lives in Nairobi with his wife and son.