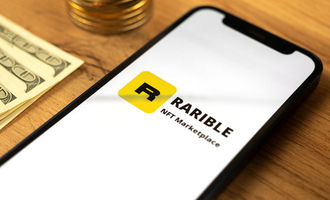 Rarible starts supporting Polygon NFTs and launches a multi-wallet feature

Jinia Shawdagor
Last updated 12th Apr 2022
Adding support for Polygon NFTs is part of Rarible's plan to become a multi-chain platform.
Rarible also partnered with Polygon Studios, which supports select Polygon-based projects.
The multi-wallet feature will allow users to add up to 20 wallets to their Rarible profiles.
Rarible has added support for non-fungible tokens (NFTs) minted on Polygon, a sidechain scaling solution for Ethereum, on its marketplace. A report revealed this news earlier today, noting that this development is part of Rarible's plans to become a multi-chain platform. Apart from NFTs minted on Polygon, Rarible also lists digital collectibles on Ethereum, Flow, and Tezos.
According to the report, Rarible decided to add support for Polygon because it uses a Proof-of-Stake (PoS) consensus mechanism, which is eco-friendly, unlike Ethereum's current Proof-of-Work (PoW) model. On top of this, Polygon features the same security as Ethereum.
Rarible's co-founder and CEO, Alexei Falin, said,
We have enjoyed watching the NFT market grow rapidly throughout the past two years, but acknowledge that there are certain roadblocks that exist within the space, including high gas fees and ecosystem limitations.
He added that Rarible, as a leading NFT protocol and marketplace, has a responsibility to solve issues related to NFT creation and consumption, which is at the center of its multi-chain vision.
A multi-wallet feature
On top of adding support for Polygon NFTs, Rarible also joined hands with Polygon Studios, an initiative that backs gaming, NFT, and metaverse projects built on Polygon. This deal will see Polygon Studios offer Rarible marketing and developer support.
Commenting on this partnership, Falin said,
As the protocol continues to evolve into the go-to platform for NFT developers, support from Polygon Studios will be extremely beneficial.
In the same announcement, Rarible announced the launch of a multi-wallet profile feature for Rarible.com. Reportedly, this functionality allows the platform's users to sign up with up to 20 wallets at a time across various blockchain networks. In doing so, Rarible helps improve the experience for users with multiple wallets by eliminating the need to sign in and out of wallets when buying NFTs.
Falin detailed that Rarible decided to launch this feature because it has first-hand experience of how logging in and out of wallets on different blockchains is inconvenient. According to him, the multi-wallet integration allows users to access all items with a simple click.
These developments are helping Rarible set itself apart from conventional NFT marketplaces like OpenSea. While Rarible cannot compete with OpenSea regarding trading volume, the platform is determined to offer its users the best experience. For instance, the platform is powered by the RARI token, which rewards users and offers them some governance power.
Jinia Shawdagor
Jinia is a fintech writer based in Sweden. With years of experience, she has written about cryptocurrency and blockchain for renowned publications such as Cointelegraph, Bitcoinist, Invezz, etc. She loves gardening, traveling, and extracting joy and happiness from the little things in life.