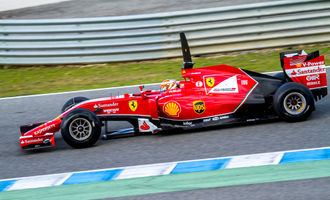 Velas price prediction after the strong Ferrari F1 showing in Bahrain

Crispus Nyaga
Last updated 24th Jun 2022
Velas price jumped sharply after the qualifying run in Bahrain.
Ferrari's Charles Lecrerc took pole position while Sainz took third.
The Velas price popped sharply on Saturday after the strong showing by Ferrari's Formula 1 team in Bahrain. VLX is trading at $0.1980, which is about 22% above the lowest level this year. It is also the highest it has been since March 10th.
What is Velas?
Velas came in the spotlight on Saturday after the first qualifying event of Formula 1's season in Bahrain. Ferrari's Charles Leclerc took pole position while Carlos Sainz took second place. Red Bull's Max Verstappen came between the two Ferrari racers.
Therefore, there is a likelihood that Ferrari's team will have a strong performance on Monday and during the rest of the season. This will be a notable for Velas since it is one of the biggest sponsors of Ferrari.
In December 2021, Ferrari confirmed that it had inked a multi-year partnership with Velas, a small but fast-growing blockchain platform. At the time, Ferrari's team principal, Mattia Binotto said:
"We are pleased to start this collaboration with Velas Network AG, a company that makes innovation and performance the hallmark of technologically advanced products and services."
So, what is Velas? Velas is a layer 1 blockchain project that seeks to disrupt the smart contract industry. It aims to become a better version of Ethereum, a platform that developers use to build decentralized projects in the non-fungible token (NFT) and DeFi industries.
Velas offers a transaction per second (tps) average of 50,000, which is significantly faster than Ethereum, BNB Chain, and Polygon. Further, the average cost of its transaction is about $0.0001 while that of Ethereum and BNB is $0.01 and $15, respectively.
Still, Velas faces significant challenges. For example, it competes with some of the biggest platforms in the world like Solana and Terra. Further, it seems like most developers have not yet embraced it since it is hard to pinpoint some of the apps built in the ecosystem.
Velas price prediction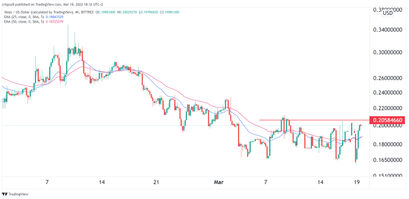 The four-hour chart shows that the VLX price has been in a strong bullish trend during the weekend as Ferrari becomes the team to beat. It is slightly below the key resistance level at $0.2058. It has also moved slightly above the 25-day and 50-day moving averages.
Therefore, while it is too early to tell, there is a likelihood that it will soon make a bullish breakout as bulls target the next resistance at $0.25, which is about 25% above the current level.
Where to buy Velas
1
Minimum Deposit
$200
Exclusive Promotion
More than 3,000 assets, including currencies, stocks, cryptocurrencies, ETFs, indices and commodities
Buy crypto, or trade cryptocurrencies via CFDs
This ad promotes virtual cryptocurrency investing within the EU (by eToro Europe Ltd. and eToro UK Ltd.) & USA (by eToro USA LLC); which is highly volatile, unregulated in most EU countries, no EU protections & not supervised by the EU regulatory framework. Investments are subject to market risk, including the loss of principal.
2
Minimum Deposit
$100
Exclusive Promotion
3
Minimum Deposit
$100
Exclusive Promotion
4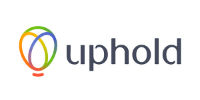 Minimum Deposit
$1
Exclusive Promotion
5
Minimum Deposit
$50
Exclusive Promotion
Trade and invest in over 25 cryptocurrencies
Extremely simple user interface
Over 68 million customers

Crispus Nyaga
Crispus is a financial analyst with over 9 years in the industry. He covers cryptocurrencies, forex, equities, and commodities for some of the leading brands. He is also a passionate trader who operates his family account. Crispus lives in Nairobi with his wife and son.