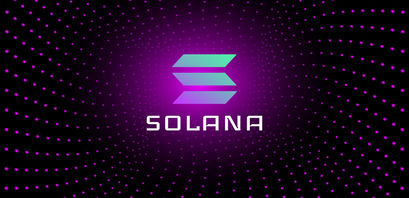 Solana price prediction: Has the SOL token bottomed?

Crispus Nyaga
Last updated 5th Aug 2022
Solana price has been in a strong bearish trend in the past few months.
It has found a strong support at $78.68 where it has struggled to move below.
Has the Solana token bottomed?
Solana price has lost momentum in the past few months as concerns about its ecosystem growth remain. The SOL token is trading at $89.94, which is close to its lowest level since April 2021. It has crashed by over 65% from its all-time high, bringing its total market cap to about $28 billion.
Solana bearish momentum
Solana is a leading blockchain project that offers a scalable platform for developers to build quality decentralized applications (dApps). It is one of the best-funded Ethereum-killer. In 2021, the developers raised over $300 million from venture capital firms to fund its growth.
Today, many developers have embraced Solana because of the advanced features that it provides. For example, apps built using the network are significantly faster than those built using Ethereum's network. It can process over 2,000 transactions per second (tps) while Ethereum can only handle less than 20 transactions.
Solana is also a proof-of-stake network that uses validators to verify transactions. As a result, it is possible for anyone to stake their coins in the network and earn as much as 5% in returns. This staking was impossible with the first version of Ethereum.
While Solana is a well-known brand, its ecosystem has been having some challenges in the past few months. This is partly because of the network's outages that led to millions of dollars worth of opportunities for developers. Some of the most popular Web 3.0 apps built using Solana are Brave, Serum, Audius, and DeFi Land.
According to DeFi Llama, Solana has a TVL of over $6.9 billion, making it the 5th biggest DeFi platform after Ethereum, Terra, BNB Chain, and Avalanche. While this is a substantial figure, it is significantly below its all-time high of over $14 billion. Therefore, investors have concerns about this ecosystem and growing competition.
Solana price prediction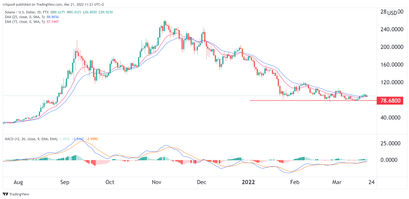 The daily chart shows that the SOL price has been in a strong bearish trend in the past few months. It has crashed by over 60% from its all-time high. A closer look shows that the coin has formed a strong support at about $78.68. It has struggled moving below this support several times this year, signaling that it has found a bottom.
The Solana price is also consolidating along the 25-day and 50-day moving averages. Therefore, the outlook for SOL is neutral. A drop below the support at $78.68 will signal that bears have prevailed, which will push the coin substantially lower. On the flip side, a move above the support at $100 will invalidate the bearish view.

Crispus Nyaga
Crispus is a financial analyst with over 9 years in the industry. He covers cryptocurrencies, forex, equities, and commodities for some of the leading brands. He is also a passionate trader who operates his family account. Crispus lives in Nairobi with his wife and son.