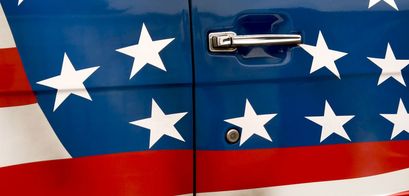 US automakers combined market cap highest globally at over $1 Trillion

Elizabeth Kerr
Last updated 15th Dec 2022
U.S automakers hold the largest market cap globally.
Tesla, Ford and General Motors (GM) hold a combined market cap of over $1 trillion(T).
American automakers jointly hold the largest market cap globally, a recent BanklessTimes.com's analysis indicates. The presentation shows that Tesla, Ford and GM together hold a market capitalization of over $ 1T. That's about 47% of the $2.307T capped global car market.
BanklessTimes' presentation shows Tesla as the most valuable carmaker. At the time of writing, the EV manufacturer held a cap of $958.67 billion(B). America's second-largest automaker by market cap, Ford, had a valuation of $66.99B. Meanwhile, GM's cap stood at $64.35B.
Top 10 car makers by market cap
Toyota took the second spot on the global top 10 car makers' list. The Japanese car giant held a market cap of $237.76 billion.
That's about 22% of the three U.S firms' combined value. Toyota's market cap is also nearly a quarter of Tesla's worth.
A deep dive into banklesstimes's presentation reveals a significant German presence. The country took three slots in the top ten courtesy of Volkswagen (VW), Mercedes Benz and BMW.
VW leads its other counterparts with a valuation of $108.54B. Luxury carmaker Mercedes Benz on its part, held a capitalization of $75.83B. Finally, BMW's market value was $56.91B.
A Chinese, Dutch and one other Japanese manufacturer complete the top ten list. BYD, the Shenzhen headquartered company, holds a valuation of roughly $99.53B. Its Dutch counterpart Stellantis and Japan's Honda have caps of $51.50 and $48.31 billion respectively.
Tesla lags in volumes despite its huge market cap
Despite dwarfing all other manufacturers by market cap, Tesla lags in volume terms. Available data places the EV giant at the 20th slot globally. In 2021, the firm sold some 936K units for $53.8B.
This discrepancy is due to the fact that the firm strictly produces electric vehicles. And while there's growing adoption of EV technology, it's still a long way from replacing traditional gas-powered cars or hybrids. Again purely electric vehicles are a bit pricey.
Toyota is the world's leading car maker
Toyota just edges VW to take the crown for 2021's largest automobile manufacturer. The company produced 10,466,051 units for a revenue of $281 last year. The VW group sold 10 382 vehicles for $275B.
America's Ford and General Motors occupy the fourth and sixth spots, respectively. The former sold 3.9M units for a revenue of $136.3B. Meanwhile, the latter made $127B from the sales of 6.29M units.

Elizabeth Kerr
Elizabeth is a financial content specialist from Manchester. Her specialities include cryptocurrency, data analysis and financial regulation.