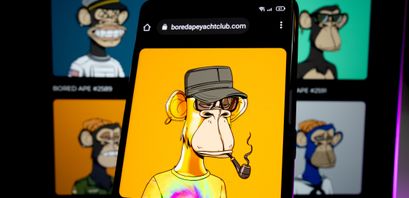 WME signs Bored Ape Yacht Club (BAYC) DJ Duo ESCAPΞPLAN

Jinia Shawdagor
Last updated 11th Aug 2022
With this signing, WME will control all of ESCAPΞPLAN's future bookings.
Before this, Dillon Francis accepted Bored Ape #378 as payment for a deal with Big Night Talent.
Francis plans to release more music with ESCAPΞPLAN later this year.
Talent agency WME, which is considered one of the big-four agencies in Hollywood, has signed the Bored Ape Yacht Club (BAYC) DJ duo ESCAPΞPLAN. A report unveiled this news on March 21, noting that WME has secured all of ESCAPΞPLAN's future bookings.
ESCAPΞPLAN also tweeted about this development, saying,
Stoked to announce that we've signed with @WME for all bookings! Shoutout @THR for spreading the good word.
ESCAPΞPLAN is the first DJ and producer duo that comprises two Bored Ape NFTs created by Big Night Talent. The pseudonymous duo's identities are represented by their Bored Ape NFTs. These are Bored Apes #309 and #4321, which go by zETH and ETHan, respectively.
ESCAPΞPLAN's creation was made possible by Yuga Labs' non-restrictive IP policy, which allows BAYC holders to use their NFTs for commercial purposes.
ESCAPΞPLAN is set to release more music this year
The signing news comes after Dillon Francis, an electronic musician, announced he would accept Bored Ape #378 as partial payment in a deal with Big Night Talent, which owns multiple nightclubs and manages ESCAPΞPLAN.
The DJ duo will be releasing multiple songs with Francis later this year, who recently revealed that all of ESCAPΞPLAN's video content would be animated and feature multiple Bored Apes. Explaining why he chose to get Bored Ape #378 as payment for his deal with Big Night Talen, Francis said he wanted to feature in ESCAPΞPLAN's music videos.
So far, ESCAPΞPLAN has released the debut single Jungle featuring rapper Rich the Kid. This music feature 88 Bored Apes, according to Big Night Talent's Tim Bonito.
Bonito added that ESCAPΞPLAN is a combination of web2 and web3. He further noted that electronic artists are among the most receptive to NFTs and that the industry is rapidly changing.
Emphasizing just how quickly things move in web3, Bonito said,
Things change so quickly in Web3 that I think that in six months from now, the world is going to be completely different.
Jinia Shawdagor
Jinia is a fintech writer based in Sweden. With years of experience, she has written about cryptocurrency and blockchain for renowned publications such as Cointelegraph, Bitcoinist, Invezz, etc. She loves gardening, traveling, and extracting joy and happiness from the little things in life.