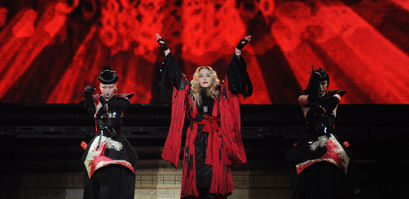 Queen of Pop makes a debut in the metaverse with a BAYC purchase

Jinia Shawdagor
Last updated 24th Jun 2022
Madonna purchased Bored Ape #4988 for 180 ETH, worth approximately $564,000.
The Queen of Pop partnered with MoonPay Concierge to acquire her Bored Ape.
Following the purchase, Madonna updated her Twitter profile with an avatar of her Bored Ape.
Madonna Louise Ciccone often referred to as the Queen of Pop, has joined the metaverse after purchasing a non-fungible token (NFT) in the Bored Ape Yacht Club (BAYC) collection. She announced this news via Twitter and Instagram on March 24, noting that she purchased Bored Ape #4988 for 180 Ethereum (ETH), worth approximately $564,000.
Her tweet read,
I finally entered the MetaVerse…,……….. My very own Ape! 🦧 Thanks @moonpay 🪄 We all need protection from Evil Eye. 🧿
MoonPay, a crypto custodian and payments processor that serves as a concierge service for celebrities interested in investing in NFTs, helped Madonna secure her Bored Ape. Her NFT features a sleeveless logo T-shirt, an S&M hat, and eyes on its magenta body. Madonna has since updated her Twitter profile picture with the avatar of her Bored Ape.
By teaming up with MoonPay, Madonna joined a growing list of high-net individuals that used its recently-launched MoonPay Concierge service. These include Snoop Dogg, Gunna, Meek Mill, Lil Baby, Gwyneth Paltrow, Diplo, and Kevin Hart.
Despite taking the next step in her career, Madonna did not get a warm reception from her fans. Some of her followers termed her adoption of NFTs as disappointing. Notably, this is not Madonna's first encounter with crypto. Before this, she teamed up with Ripple to raise funds for orphans in Miami.
Bored Ape NFTs continue catching on
By purchasing Bored Ape #4988, Madonna has joined an expanding list of celebrities who have warmed up to BAYC. Before her, Canadian musician Justin Bieber bought two NFTs worth $470,000 and $1.3 million in the collection. Marshall Mathers, commonly known as Eminem, also purchased a Bored Ape #9055 for $462,000.
At the time of writing, the BAYC collection has a floor price of 103 ETH (approximately $321,000). Since its launch in April last year, the project has recorded a trading volume of over 471,500 ETH (around $1.5 trillion).
Yuga Labs, the company behind BAYC, confirmed plans to launch Otherside, a metaverse platform centered on the collection, after raising $450 million in an a16z-led seed funding round.
Jinia Shawdagor
Jinia is a fintech writer based in Sweden. With years of experience, she has written about cryptocurrency and blockchain for renowned publications such as Cointelegraph, Bitcoinist, Invezz, etc. She loves gardening, traveling, and extracting joy and happiness from the little things in life.