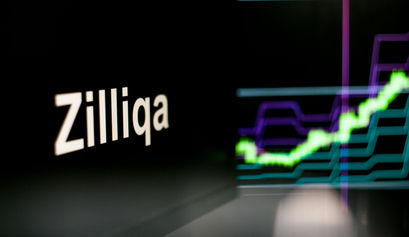 Zilliqa price prediction: ZIL set to pullback after going parabolic

Crispus Nyaga
Last updated 23rd Sep 2022
Zilliqa price more than doubled during the weekend.
The rally was because of its partnership with Agora.
Zilliqa price went parabolic during the weekend as the embattled cryptocurrency got its swag back. The ZIL token rose to a high of $0.1238, which was the highest level since October 2021. Its market cap has jumped to over $1.4 billion, making it the 80th biggest coin in the world.
Why is ZIL soaring?
Zilliqa is a leading blockchain project that became popular for being the first one to embrace a technology known as sharding. Sharding is a useful tech that increases the speeds of transactions by reducing the size of blocks into smaller pieces known as shards.
By so doing, it is able to supercharge the performance of transactions. Indeed, the technology has become very successful such that Ethereum has embraced it. Other well-known projects that use the sharding technology are Near Protocol and Elrond.
At its peak, Zilliqa was one of the most successful cryptocurrencies in the world. It was among the top 20 of the biggest cryptocurrencies in the world. However, in the past few months, its ranking has been in a strong bearish trend as competition in the smart contract industry heats up. A few weeks ago, it moved below the top 100 coins.
The Zilliqa price more than doubled during the weekend after the developers announced that they were partnering with Agora, a global talent awards app. The partnership will see Metapolis, a project developed on unreal engine, Unity, and Nvidia omniverse will be powered by Zilliqa.
Therefore, analysts expect that Zilliqa will see more growth in the coming months. As the network implements its upcoming upgrades.
Still, the biggest challenge for Zilliqa is that competition in the smart contract industry is heating up with platforms like Near, Avalanche, and Solana taking market share. For example, the total value locked of ZIL has dropped from over $300 million in 2021 to less than $27 million.
Zilliqa price prediction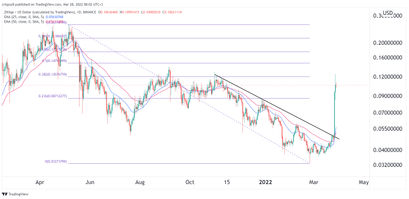 The daily chart shows that the ZIL price has been in a strong bullish trend in the past few months. It bounced back during the weekend and even retested the 38.2% Fibonacci retracement level. It has also moved above the 25-day and 50-day moving averages. The coin also moved above the descending trendline shown in black.
Therefore, I suspect that Zilliqa will have a major pullback as the enthusiasm of the new partnership fades. If this happens, the next key support to watch will be at $0.0850.

Crispus Nyaga
Crispus is a financial analyst with over 9 years in the industry. He covers cryptocurrencies, forex, equities, and commodities for some of the leading brands. He is also a passionate trader who operates his family account. Crispus lives in Nairobi with his wife and son.