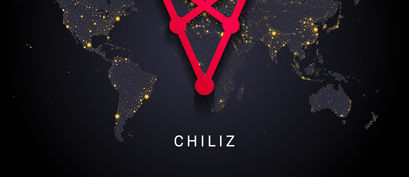 Chiliz price prediction as fan token market cap soars to $3 billion

Crispus Nyaga
Last updated 29th Jun 2022
Chiliz price has made a spectacular comeback in the past few days.
It has risen by more than 120% from its lowest level this year.
Fan tokens market cap has risen to over $3 billion.
The Chiliz price has done well in the past few days as investors cheer the comeback of fan tokens and other cryptocurrencies. The CHZ price is trading at $0.3200, which is the highest it has been since January 6th this year. It has risen by more than 120% from its lowest point this year.
What is Chiliz and why is it rising?
Chiliz is a leading blockchain project that is seeking to disrupt the sports and entertainment industries. The network allows a platform that allows sports teams and celebrities to build and market their fan tokens.
For starters, a fan token is a cryptocurrency that allows teams to boost their engagement with their fans. Using these tokens, holders can vote on key items and even earn discounts when shopping the team's merchandise.
Chiliz has been embraced by some of the biggest sporting events in the world. Some of those that have launched their fan tokens are Manchester United, Paris Saint-Germain, Alpine F1. and FC Barcelona. According to Fan Market Cap, there are now 63 fan tokens that have a total market cap of over $3.2 billion.
Chiliz price tends to do well when fan tokens are rising and vice versa. This explains why the CHZ price has been in a downward trend in the past few months. That's because the overall prices of these tokens have been dropping.
Recently, however, they have made a comeback in sync with the overall price of fan tokens has jumped. Manchester City token has risen by 17% in the past 7 days while FC Porto and AC Milan have risen by more than 20%.
Still, there have been a challenge after Chiliz was accused of price manipulations in its Socios platform. Alexandre Dreyfus was accused of withholding payments in order to maintain the CHZ price higher.
Chiliz price prediction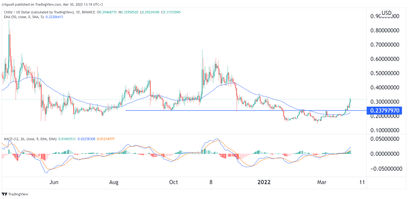 The daily chart shows that the CHZ price has made a spectacular rebound in the past few days. Along the way, the coin has managed to move above the important resistance at $0.2380, which was the lowest level on September 29th last year.
Chiliz has also moved above the 25-day moving average. It has also formed what looks like a rounded bottom pattern. Therefore, there is a likelihood that it will keep soaring as bulls target the next key resistance level at around $0.50, which is 56% above the current level.

Crispus Nyaga
Crispus is a financial analyst with over 9 years in the industry. He covers cryptocurrencies, forex, equities, and commodities for some of the leading brands. He is also a passionate trader who operates his family account. Crispus lives in Nairobi with his wife and son.