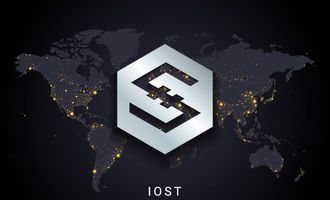 IOST price prediction: Is IOST the next big thing in crypto?

Crispus Nyaga
Last updated 12th Apr 2022
IOST price jumped to the highest level since November.
IOST is a blockchain project that introduced proof of believability concept.
The IOST price went parabolic on Thursday as investors continued to hunt for cheap bargains. The token is trading at $0.04, which was the highest level since November 16th this year. It has risen by more than 160% from its lowest level this year, bringing its total market cap to more than $1.1 billion.
What is IOST and why is it rising?
IOST is a Japanese blockchain project that seeks to become the go-to place for developers. It is an Ethereum-killer whose developers have created a new technology known as proof-of-believability. They believe that it is significantly better than a proof-of-stake and a proof-of-work.
IOST claims that its network is significantly faster. For one, it can manage to run about 8,000 transactions per second, which is higher than that of Solana, Binance, and Ethereum. The cost of transactions is also significantly cheaper.
In the past few months, developers have been building the platform and attracting new people to build apps in its ecosystem. Some of the apps built on IOST are Donnie Finance, Citadel, and Platinum Egg. Still, to be fair, its ecosystem is significantly smaller than other platforms like Solana and Avalanche.
As part of its plans to grow, the developers plan to do several things in the second quarter. For example, they intend to complete the development and upgrades of the infrastructure and enhance the IOST secret weapon to expand the ecosystem. Also, they plan to roll out a fund to incentivize developers.
It is unclear why the IOST price went parabolic this week. A possible reason is that investors are buying Ethereum-killers they expect will grow rapidly. For example, the Zilliqa price has jumped by more than 200% in the past few days.
Another possible reason is that Tomonity, a Japanese NFT marketplace is set to launch soon using the IOST network.
IOST price prediction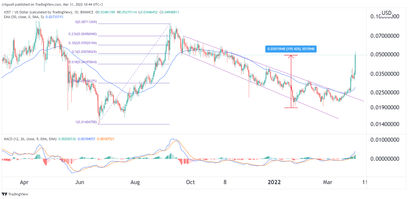 The daily chart shows that the IOST price has been in a strong bullish trend in the past few days. By so doing, the coin has managed to move above the upper side of the descending channel pattern shown in purple. It has also moved above the 50% Fibonacci retracement level while the MACD has moved above the neutral line.
The coin has also moved above the 25-day and 50-day moving averages. Therefore, there is a likelihood that the coin will keep rising in the coming days as the fear of missing out (FOMO) sets in.

Crispus Nyaga
Crispus is a financial analyst with over 9 years in the industry. He covers cryptocurrencies, forex, equities, and commodities for some of the leading brands. He is also a passionate trader who operates his family account. Crispus lives in Nairobi with his wife and son.