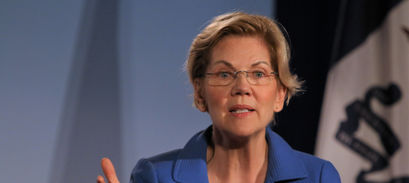 Senator Warren on NBC: Crypto is this decade's bubble

Daniela Kirova
Last updated 15th Dec 2022
Warren says it's time for the U.S. to create its own central bank digital currency
Bitcoin is eventually going to end up 'getting regulated'
U.S. president might be allowed to add non-U.S.-based crypto companies to list of sanctioned ones
U.S. Sen. Elizabeth Warren (D-Mass.) told NBC's Chuck Todd on "Meet the Press Reports" last night that it was time for the U.S. to create its own central bank digital currency (CBDC). She said:
Let's do a central bank digital currency. I think it's time for us to move in that direction.
Bitcoin to be regulated like a commodity
When asked if Bitcoin would be regulated like a commodity as a bare minimum, Warren replied it was eventually going to end up getting regulated because this was needed and gave the subprime mortgage financial crisis that started in 2007 as an example of why. She did not elaborate on the type of regulation.
Crypto companies' business with sanctioned ones blocked in U.S.
In March, Warren introduced a new bill to stop cryptocurrency companies from doing business with sanctioned ones. It is called the Digital Assets Sanctions Compliance Enhancement Act. If passed into law, it would allow the U.S. president to add crypto companies not based in the U.S. to the list of sanctioned companies.
On whether she sees top cryptocurrency as "this decade's real estate bubble," she replied:
The whole digital world has worked very much like a bubble works. What has it moved up on? It's moved up on the fact that people all tell each other that it's going to be great, just like it was on that real estate market. How many times did people say: 'Real estate always goes up. It never goes down'? They said it decades ago before the last real estate bubble. They said it in the 2000s, before the crash in 2008.
Warren also attacked miners on energy use
Earlier this year, Warren wrote to six Bitcoin mining companies - Riot Blockchain, Marathon Digital Holdings, Bitfury Group, Bit Digital, Stronghold Digital Mining, and Bitdeer Group – about their "extraordinarily high energy usage."
In the letter, she asked each miner to detail its scaling plans, electricity consumption, impact on energy costs borne by individuals and small businesses, and agreements with electricity companies, giving them the deadline of Feb. 10. She wrote:
The extraordinarily high energy usage and carbon emissions associated with Bitcoin mining could undermine our hard work to tackle the climate crisis – not to mention the harmful impacts crypto mining has on local environments and electricity prices.
In December last year, she also wrote to Bitcoin miner Greenidge Generation about its high energy usage.
Daniela Kirova
Daniela is a writer at Bankless Times, covering the latest news on the cryptocurrency market and blockchain industry. She has over 15 years of experience as a writer, having ghostwritten for several online publications in the financial sector.