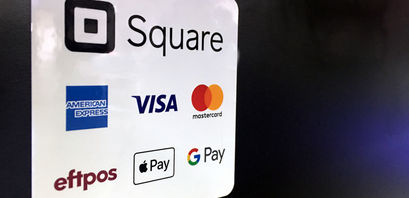 Block stock price forecast: Is SQ a good investment?

Crispus Nyaga
Last updated 29th Jun 2022
Block share price has been in a strong bullish trend.
There is a likelihood that the stock will recover to about $186.
The Block stock price has made a swift recovery as other fintech companies rebound. SQ shares are trading at $145, which is about 75% above the lowest level this year. It is still about 50% below the highest level in 2021, bringing its total market cap to about $77 billion.
Is Square undervalued?
Block, formerly known as Square, is a leading fintech company that offers numerous services. Its primary product is a point-of-sale (PoS) product that helps businesses accept payments in their stores. It also has other products that make it possible for companies to receive payments online.
Block also provides Square Capital, which is a product financial services product that provides loans to companies. The firm uses data in its network to assess the creditworthiness of its customers and then extends loans to it.
Block also owns Cash App, one of the most popular peer-to-peer payment platforms that has millions of customers in the US. It is also one of the leading cryptocurrency apps in the US as it allows people to buy, sell, and store Bitcoin.
Further, in 2021, Block entered the Buy Now Pay Later (BNPL) by acquiring AfterPay, a leading Australian company.
The Block stock price has been in a period of strong growth as the number of people shopping online rise. As a result, its total revenue jumped from over $2 billion in 2017 to more than $17.6 billion. Its profitability has also risen sharply to over $158 million.
Recently, however, the SQ share price has been in a bearish trend as investors worry about the company's growth. It has also fallen because of the low volume of Bitcoin and Dogecoin transactions in the network. Further, the decline has been in sync with that of other fintech stocks like PayPal and Affirm.
Still, analysts believe that the Block share price has become undervalued. Indeed, the average estimate of the stock by analysts is $182, which is sharply higher than where it is today.
Block stock price forecast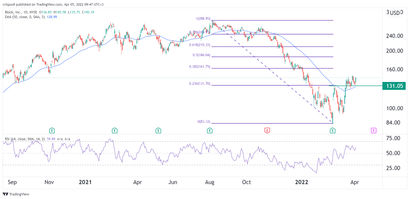 The daily chart shows that the SQ stock price has been in a steady bullish trend in the past few days. Along the way, the coin has managed to move above the 23.6% Fibonacci retracement level.
It has also managed to move above the 25-day and 50-day moving averages and the important resistance at $131, which was the highest point on March 2. The Relative Strength Index has also jumped close to the overbought level.
Therefore, there is a likelihood that the Block share price will likely keep rising as bulls target the 50% retracement level at $185.

Crispus Nyaga
Crispus is a financial analyst with over 9 years in the industry. He covers cryptocurrencies, forex, equities, and commodities for some of the leading brands. He is also a passionate trader who operates his family account. Crispus lives in Nairobi with his wife and son.