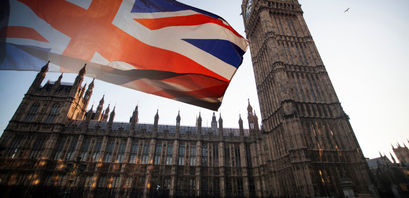 UK government to mint and issue an NFT this summer

Jinia Shawdagor
Last updated 23rd Sep 2022
HM Treasury will work together with The Royal Mint to create the NFT.
The UK has not shared the NFT's details, including whether it seeks to monetize it.
The upcoming NFT launch is part of the UK's plans to become a crypto leader.
The UK government is looking to launch a non-fungible token (NFT) as part of its goal to spearhead crypto innovation. HM Treasury unveiled this news through a press release on April 4, noting that it plans to work with The Royal Mint to create and issue the NFT this summer.
According to the news release, the NFT will serve as an emblem of the UK's forward-looking approach toward the burgeoning crypto industry. The publication did not offer more details about the project, including whether it seeks to monetize the NFT. A spokesperson said the government would provide more information about the project soon.
Commenting on these plans, Rishi Sunak, Chancellor of the Exchequer, said,
It's my ambition to make the UK a global hub for cryptoasset technology, and the measures we've outlined today will help to ensure firms can invest, innovate and scale up in this country.
He added that the British government wants to ensure that the business of tomorrow, and the jobs it creates, find a home in the UK. To this end, the government plans to enforce effective regulations that offer innovators the confidence to think and invest long-term.
Sunak further noted that,
This is part of our plan to ensure the UK financial services industry is always at the forefront of technology and innovation.
Plans to regulate crypto and the blockchain
Apart from plans to roll out an NFT, the UK also intends to launch a financial market infrastructure sandbox, which would enable firms to experiment and innovate. Additionally, the government seeks to set up a Cryptoasset Engagement Group to work closely with the burgeoning asset class.
Moreover, the UK intends to explore how to make its tax system more competitive. The government expects this change to foster further crypto development within its jurisdiction. On top of this, Britain seeks to introduce legislation that would enable stablecoins to be used as a means of payment within the payments regulatory parameter.
More importantly, the Financial Conduct Authority (FCA) plans to host a two-day event dubbed Cryptosprint in May. During this event, the regulator will seek the opinions of crypto industry participants on issues relating to the development of a future crypto regime.
While speaking during the Innovate Finance Global Summit in London, City Minister John Glen said the government also intends to explore the benefits of Distributed Ledger Technology (DLT) in UK financial markets.
Jinia Shawdagor
Jinia is a fintech writer based in Sweden. With years of experience, she has written about cryptocurrency and blockchain for renowned publications such as Cointelegraph, Bitcoinist, Invezz, etc. She loves gardening, traveling, and extracting joy and happiness from the little things in life.