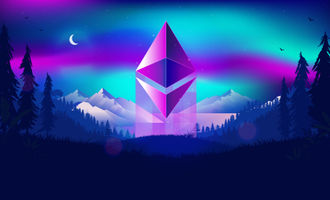 Aurora price prediction: Is this the next big thing in crypto?

Crispus Nyaga
Last updated 12th Apr 2022
Aurora price went parabolic on Friday.
The jump is likely because of the giant funding round by NEAR Protocol.
Aurora is a blockchain platform hosted in Near.
The Aurora price went vertical on Friday as investors cheered the latest funding of the NEAR Protocol. The coin's price soared to 14.2 USDT, which was the highest level since February 8th. It has jumped by more than 117% from its lowest level this year. As a result, data by CoinGecko shows that the token is valued at more than $327 million.
What is Aurora and why is it rising?
As the 212th biggest cryptocurrency in the world, Aurora is not a platform that many people know about. Worse, looking at its website does not provide more color about what it does or even its ecosystem.
Yet, Aurora is a leading platform in the blockchain industry. It is a smart contract chain that helps developers build quality decentralized applications in the DeFi and NFT industry.
Data shows that its platform has a total value locked (TVL) of $856 million, making it bigger than Cardano and Harmony. The biggest apps in the ecosystem are Bastion, Trisolaris, Origami. And WannaSwap.
The main reason why Aurora price is rising is its close association with the Near Protocol. In May last year, Aurora debuted in the Near Protocol, where it takes advantage of features like sharding and gas fee remuneration.
It is a platform that has Aurora Engine that allows seamless deployment of Solidity and Vyper Smart Contracts. Further, it also has Aurora Bridge which provides permissionless transfer of tokens and data between Aurora and Ethereum.
Some of the other features that Aurora has are faster transfer speeds that are 50x faster than Ethereum. Its costs are also 1,000x lower than those of Ethereum.
Therefore, it is surging as investors anticipate more development of its ecosystem now that NEAR has raised $350 million from investors.
Aurora price prediction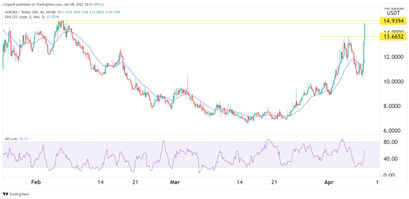 The four-hour chart shows that the AURORA price has been in a strong bullish trend in the past few days. This rally accelerated on Friday as investors reflected on the new fundraising. As a result, it managed to move above the key resistance level at 13.66 USDT, which was the highest point this month.
It has also moved above the 25-day and 50-day moving averages while the Money Flow Index (MFI) is rising. Therefore, Aurora will likely keep rising as bulls attempt to rise above the year-to-date high of 15 USDT.

Crispus Nyaga
Crispus is a financial analyst with over 9 years in the industry. He covers cryptocurrencies, forex, equities, and commodities for some of the leading brands. He is also a passionate trader who operates his family account. Crispus lives in Nairobi with his wife and son.