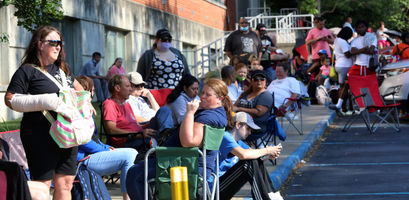 Covid-19 unemployment at 14.7% cost the US more jobs than any other crisis since WWII

Elizabeth Kerr
Last updated 15th Dec 2022
The American economy's unemployment rate jumped 14.7%, owing to COVID-19.
Available data also indicates that African American men, Hispanic women, and Immigrants faced the brunt of the job cuts resulting from the pandemic.
COVID-19 wreaked havoc on the American employment sector. That's according to a BanklessTimes.com analysis that shows that the pandemic saw unemployment rise to 14.7%. America hasn't recorded such levels since the Great depression. It's also some 7% higher than that recorded in World War 2.
Unemployment increased by so much because of many business closures, layoffs, and furloughs. These saw millions of Americans lose their livelihoods. However, the number of unemployed Americans may actually be higher than reported. Pew Research Centre, for instance, quotes government circles estimating the figure to be 16%.
COVID-19 rendered 21M Americans jobless
The Bureau of Labor Statistics indicates that the outbreak rendered 20.5M Americans unemployed in February 2020. That was an upswell of more than 14M from the earlier recorded figure of 6.2M.
Consequently, the unemployment rate more than tripled from about 4% in that month to 13 percent in May 2020. May's figures were only second to the 14.7% attained in the time.
Which were the worst affected sectors?
BanklessTimes' analysis also shows the worst affected sectors. Topping the list was Leisure and Hospitality. Here unemployment peaked at 39.3% in April 2020, later recovering to stand at 9% with the reopening of the economy.
Retail and wholesale followed with highs of 23% in April 2020. These would drop to 4.9% in July 2021. Likewise, Construction had highs of 16.6% that have since fallen to 6.1%.
Other sectors that witnessed significant rises in unemployment were Education and Health Services and Transportation and Utilities. The former had highs and lows of 10.9% and 4.1%, respectively. Meanwhile, the latter's highest figures were 13.2% and its lowest at 4.2%.
COVID-19 unemployment rates and demography
The statistics also indicate that unemployment affected Gender and Race differently. The pandemic affected women more than men, with the number of jobless women growing by 14.3%. That was 2.4% more women than men who lost their jobs.
So what's the explanation for the scourge affecting more women than men? One reason is that women account for the majority of the employees in the Hospitality and Educational sectors. As indicated before, these are among the sectors that the epidemic stung most.
African American men and Hispanic women worst hit
Moreover, the coronavirus crisis affected more African American men than those of the other races. The outbreak jumped their level of joblessness by 15.8%.
Although there isn't a clear explanation for this, one would assume it's due to their occupational and industrial distributions. Since the Great Recession hit, goods production has tended to affect African American men's jobs more.
The unemployment rate for Hispanic males was the second-highest at 15.5%. That level was higher than those for the Asian and Caucasian men, which stood at 13.3% and 9.7%, respectively. Similarly, Hispanic women had the highest unemployment rate among their peers at 19.5%.
Immigrants had it rough too
The pandemic also impacted the immigrant community more. Immigrants saw their unemployment metric swell to 15.7%. That contrasts with the 12.4% that affected U.S born employees. Pre-pandemic times the two groups had their levels of joblessness at roughly 4% each.
A significant portion of the immigrant workers are young
Moreover, they're likely to lack a college education. Besides, many are unauthorized laborers. These factors increase their susceptibility to job cuts in such events.
This COVID-19 induced unemployment ranks higher than two other huge employment crises of the last 40 years. Both the Energy crisis of 1981-82 and the Great recession of 2007-2010 had joblessness peaking at about 10.8%. Additionally the latter saw 8.8M Americans lose their jobs.

Elizabeth Kerr
Elizabeth is a financial content specialist from Manchester. Her specialities include cryptocurrency, data analysis and financial regulation.