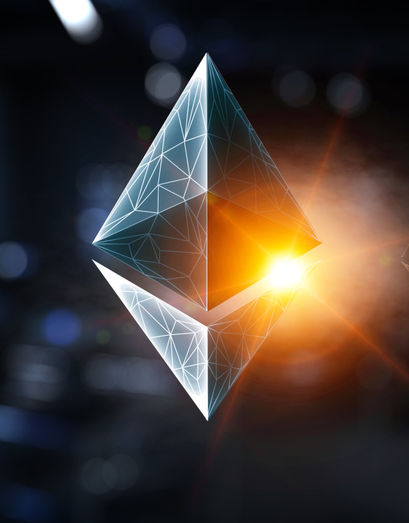 Ethereum merge updates: Is ETH price cheap towards the merge?

Crispus Nyaga
Last updated 23rd Sep 2022
Ethereum merge is a process where it transitions from PoW to PoS.
It will also introduce deflationary features to the network.
Ethereum merge has emerged as the most crucial event in the cryptocurrency industry this year. Analysts and close watchers believe that its impact will be enormous to all industries in the blockchain industry like Decentralized Finance (DeFi), non-fungible tokens (NFT), and gaming. So, how will the merge affect the Ethereum price?
What is the Ethereum merge?
Ethereum is a second-generation blockchain project built using the proof-of-work (PoW) framework. Over the years, many industry experts have concluded that while PoW is a safe framework, its limitations are enormous.
For example, it is a power-consuming process that requires computers with advanced GPUs. Also, transactions in this technology are significantly slow and expensive. Today, the average cost of an Ethereum transaction is about $15.
Therefore, Ethereum developers decided to start a gradual process of upgrades, dubbed as ETH 2.0. The goal was to transition from a PoW to a proof-of-stake (PoS) protocol. PoS blockchains rely on validators to confirm transactions.
In 2021, the developers launched the London hard fork that introduced multiple features to the network. Some of the features introduced were related to speed improvements and miner incentives. For example, miners stopped receiving transaction fees from the network. It also aimed at turning Ethereum into a deflationary platform.
Another important phase of Ethereum 2.0 was the introduction of the Beacon Chain. This chain brought staking to Ethereum. According to Staking Rewards, users have staked Ethereum coins worth over $32 billion.
When will Ethereum merge happen?
Ethereum merge is a process that is expected to take place in May or June this year. Its goal will be to merge the current Ethereum mainnet with the beacon chain proof-of-stake network. It will mark the ens of Ethereum's proof-of-stake platform.
It will then be followed by the rollout of sharding features that will increase the speed of Ethereum. Sharding is a process that breaks blocks into smaller pieces known as shards with the goal of increasing their throughput.
It has been used extensively by other blockchain projects like Zilliqa, Near Protocol, Elrond, and Polkadot. Ethereum's transactions per second will be able to move from less than 20 to over 1,000.
Therefore, analysts expect that Ethereum price will do well in the coming months as the merge goes on. For one, it will lead to more DeFi, NFT, and gaming activity in its platform.
The latest development about Ethereum merge is that the foundation ran a major merge test to see its performance. So, should you buy Ethereum ahead of the merge?
Ethereum price prediction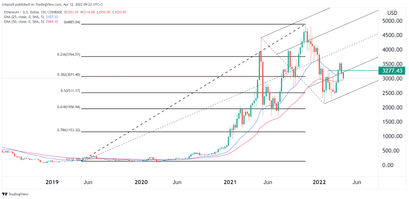 Turning to the weekly chart, we see that the ETH price has struggled lately and has moved below the 38.2% Fibonacci retracement level. The coin has dropped below the first support of the Andrews Pitchfork tool. It also seems like it has formed a head and shoulders pattern, which is usually a bearish sign.
Therefore, there is a likelihood that Ethereum price will remain under pressure towards the merge. I then expect that it will resume the bullish trend and possibly retest its all-time high of near $5,000.

Crispus Nyaga
Crispus is a financial analyst with over 9 years in the industry. He covers cryptocurrencies, forex, equities, and commodities for some of the leading brands. He is also a passionate trader who operates his family account. Crispus lives in Nairobi with his wife and son.