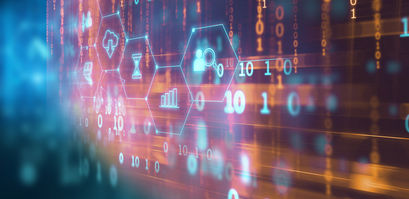 Chain price prediction: Is XCN the next big thing in crypto?

Crispus Nyaga
Last updated 5th Aug 2022
Chain price has had a spectacular performance in the past few weeks.
Its market cap has risen to over $1.8 billion.
The Chain price has defied gravity in the past few days as demand for the coin rises. The XCN token is trading at $0.1100, which is its all-time high. It has risen by more than 110% above the lowest level in March, bringing its total market cap to more than $1.8 billion. It is now the 66th biggest cryptocurrency in the world.
What is Chain and why is it rising?
Chain is a fast-growing blockchain company that was established in 2014. At the time, the company was backed ny some of the leading names in Silicon Valley like Khosla Ventures and Pantera Capital. It was also backed by Visa and Nasdaq. After years of growth, the network was acquired by Stellar Foundation, a deal that led to the formation of Interstellar.
Chain now offers a product known as Sequence, which is used by organizations to manage their financial assets in a token format securely. They can then transfer them seamlessly to the public market. While the platform is still young, it has proven useful in industries like cryptocurrency exchanges, mobile wallets, and even ride-sharing applications.
Chain has a cryptocurrency known as Chain Token (XCN) that was launched in March. The goal for the coin is to help in the governance of the network. Holders will be able to vote on protocol upgrades and also receive discounts, gain premium access, and earn staking rewards.
The Chain price is rising because the coin is new and gaining interest among investors. The same situation happened when ApeCoin as unveiled a few weeks ago.
Also, the developers recently announced a partnership with Alameda Research, the company started by Sam Bankman. Alameda will become the platform's primary market maker. Chain CEO said:
"We are excited to have the opportunity to leverage the strengths of Chain with those of a market-leader like Alameda, who has such a strong global presence."
Chain price prediction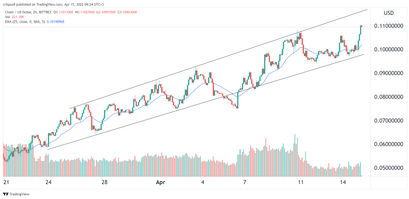 The two-hour chart shows that the XCN price has been in a strong bullish trend since it was launched in March. Along the way, the coin has formed an ascending channel that is shown in black. It is slightly below the upper side of this channel.
At the same time, the coin has moved above the moving averages while volume has been elevated. Therefore, there is a likelihood that the coin will keep rising in the coming days. Learn more about cryptocurrency spread betting here.

Crispus Nyaga
Crispus is a financial analyst with over 9 years in the industry. He covers cryptocurrencies, forex, equities, and commodities for some of the leading brands. He is also a passionate trader who operates his family account. Crispus lives in Nairobi with his wife and son.