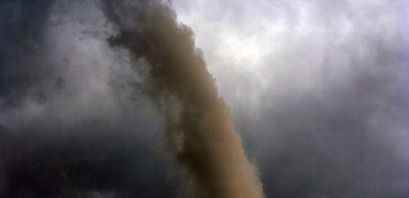 Tornado Cash integrates compliance tool to block sanctioned wallets

Daniela Kirova
Last updated 29th Jun 2022
Only the user-facing dApp will be blocked, the underlying smart contract will not
It was thought impossible to enforce sanctions on decentralized protocols like Tornado Cash
In a somewhat surprising move, privacy coin mixer Tornado Cash announced it had integrated a compliance tool developed by Chainalysis to block crypto wallets sanctioned by the U.S. Office of Foreign Assets Control (OFAC), CoinDesk reported.
Half-measure
Only the user-facing dApp will be blocked, however. The underlying smart contract will not, one of the protocol's founders later tweeted.
Tornado Cash was created to defend people's financial privacy and has often been used to hide the trails of crypto obtained through cybercrime. In the past, its founder has insisted it is not possible to enforce sanctions on decentralized protocols like Tornado Cash from a technical viewpoint.
Nothing new
This halfway measure to limit front-end access is not a novelty. A few months ago, it emerged that Tornado Cash complied with OFAC's list of sanctioned crypto wallets.
US accuses North Korea again
Today's announcement comes after news that US authorities alleged North Korean hackers were behind the $625 million exploit of Axie Infinity's Ronin blockchain. This may be the biggest hack in history.
So far, the Ronin hackers have sent ether worth over $80 million through Tornado Cash according to Elliptic, a tracing firm.
Tal Be'ery, the chief technology officer of crypto wallet ZenGo, told CoinDesk:
The fact that Tornado Cash doesn't allow access to its app to comply with regulations doesn't necessarily mean that the protocol and smart contracts are not available to the sanctioned entities.
OFAC is a U.S. government authority that enforces economic sanctions in support of foreign policy and national security. It has a list of crypto wallets connected to sanctioned companies and individuals.
A free smart contract
The Chainalysis sanctions compliance oracle is a free smart contract that scans for various government-sanctioned crypto wallets. The tool was introduced in March when Russia invaded Ukraine.
At the time, Chainalysis CEO Michael Gronager said:
Now is the time for the industry to demonstrate that blockchains' inherent transparency make cryptocurrency a powerful deterrent to sanctions evasion. In anticipation of ongoing sanctions, we've prioritized the development of these tools so that all cryptocurrency market participants have what they need to harness this transparency and conduct basic sanctions screening at no cost to them.
Daniela Kirova
Daniela is a writer at Bankless Times, covering the latest news on the cryptocurrency market and blockchain industry. She has over 15 years of experience as a writer, having ghostwritten for several online publications in the financial sector.