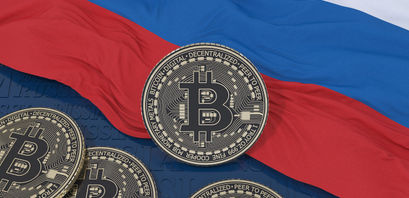 Russia finalizes bill on crypto, potentially accepting it as legal tender

Daniela Kirova
Last updated 29th Jun 2022
Finance ministry drafted a bill "On Digital Currency" and sent it to the government for approval
The draft clarifies provisions on mining and trading cryptocurrencies
The Russian Ministry of Finance amended and finalized a crypto bill, which recommends using cryptocurrencies as legal tender, CoinTelegraph reported, citing local media source Kommersant. The ministry drafted a bill named "On Digital Currency" and sent it to the government for approval to be passed into law.
The draft clarifies provisions on mining and trading cryptocurrencies. The ministry made this announcement around ten days ago, but it is now fact. The bill provides regulatory clarity related to issuing, circulating, mining, and trading crypto as well as other activities within the market.
If you're interested, here are some guides on:
Twitter hastily embraces move
Anthony Pompliano and Changpeng Zhao were among the first to acknowledge the move. Zhao expressed "surprise" considering the hefty sanctions currently levied against the country.
Soon after that, Zhao and others deleted the tweets cheering for crypto's legal status in Russia, admitting they had posted them too hastily.
Reportedly, the daily Kommersant got their hands on the authentic final version of the draft law. According to Russian media, the bill recommends accepting digital currency "as a means of payment that is not the monetary unit of the Russian Federation." However, the government has yet to pass it into law.
No known timeline
An official announcement regarding the bill's legal effect is anticipated, but with no known timeline, although the ministry has finalized and shared it with the Russian government.
Kommersant's report also highlighted that the bill shares the groundwork for registered operators while recommending the development of a regulatory framework for crypto-related activities.
In the announcement related to the finalized bill, the ministry disclosed to have clarified crypto regulations while considering the viewpoint of all other bodies of the Russian government.
Russia to cooperate with Africa on crypto and CBDCs
This week Sergei Katyrin, President of Russia's Chamber of Commerce and Industry, suggested collaborating with African countries to carry out cross-border settlements in central bank digital currencies (CBDCs) and cryptocurrencies.
Payment in Bitcoin for Russian oil?
President of the Russian Gas Society Pavel Zavalny hinted it might be possible to accept Bitcoin as payment for exporting oil and gas in an ongoing attempt to counter the international sanctions and the resultant inflation.
More specifically, Zavalny recommended taking payments not only in rubles, but also Turkish lira, Chinese yuan, or even Bitcoin from "friendly countries." However, oil might cost "unfriendly countries" rubles or gold.
Bitcoin Price Prediction
In case you want to read more, take a look at our guide on Bitcoin price prediction.
Will Russia cooperate with Africa on crypto and CBDCs?
Daniela Kirova
Daniela is a writer at Bankless Times, covering the latest news on the cryptocurrency market and blockchain industry. She has over 15 years of experience as a writer, having ghostwritten for several online publications in the financial sector.