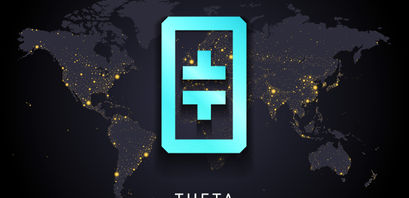 Theta Network price darts higher as new validator joins

Crispus Nyaga
Last updated 29th Jun 2022
Theta Network rose to the highest level since April 10th.
BridgeTowr Capital joined as an enterprise validator.
Theta Network price rose to a high of $3.412, which was the highest level since April 10th. It has risen by over 23% from its lowest level in April 18th. Its market cap has jumped to over $3.4 billion. Similarly, the Theta Fuel price has risen by over 3% in the past 24 hours.
New validator node
Theta is a leading blockchain project that seeks to become a leading player in the video infrastructure and non-fungible token (NFT) industries. The network helps to decentralize the sector by making it possible for people to share their free bandwith to the network. As a result, videos hosted in the network are substantially faster.
The Theta Network price is rising after BridgeTower Capital announced that it will become the next enterprise validator for the network. The company has developed a sophisticated platform to uniquely bring products to its permissioned markets. It has ove 5,000 of its own staking nodes and own servers. In a statement, the company's founder said:
"We have long been supporters of the work Theta initiated in using the blockchain infrastructure to deliver decentralized video streaming in ways that provide both technical and economic advantages."
Theta's validator node has been expanding rapidly in the past few years. Some of the top companies that provides these solutions are Samsung, Sony, and Google. The developers expect that the list of validator nodes will keep rising since they have reduced the amount required to 200,000 THETA.
Theta Network price is also reacting to the performance of its TDROP NFT marketplace. The American Idol 20th season is expected to launch its new NFTs in its platform on Friday. Since its launch, the network has become an important player in the NFT industry.
Theta Network price prediction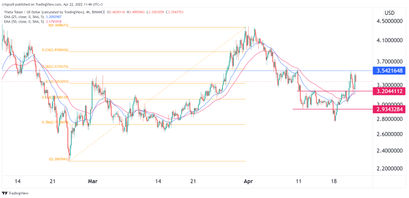 The four-hour chart shows that the Theta price has made a spectacular recovery in the past few weeks. It has managed to move above the 25-day and 50-day moving averages and the 50% Fibonacci retracement level.
Further, the coin has made a break-and-retest pattern by moving back to $3.2, which was the highest level on April 14th. Therefore, more upside will be confirmed if the price moves above the important resistance level at $3.54. If this happens, the next key level to watch will be at $4.
Where to buy Theta Network
As a leading cryptocurrency, Theta Network is offered by many brokers and exchanges.
See some of the best places to buy cryptocurrencies here.

Crispus Nyaga
Crispus is a financial analyst with over 9 years in the industry. He covers cryptocurrencies, forex, equities, and commodities for some of the leading brands. He is also a passionate trader who operates his family account. Crispus lives in Nairobi with his wife and son.