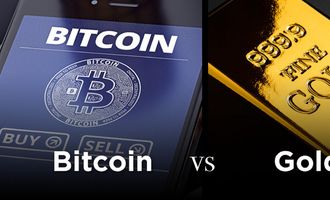 Swiss exchange lists first Bitcoin and gold ETP in the world

Daniela Kirova
Last updated 29th Jun 2022
The new ETP, called BOLD, will track a customized benchmark index reflecting gold and bitcoin
Higher weighting will be given to the less volatile asset, tracked over the past 360 days
The Swiss SIX stock exchange listed the world's first exchange-traded product (ETP) combining exposure to gold and bitcoin, CoinDesk reported.
Crypto asset data provider ByteTree Asset Management and 21Shares, an ETP issuer, developed the product.
BOLD will track a customized dual index
The new ETP, called BOLD, will track a customized benchmark index reflecting gold and bitcoin. Depending on the assets' comparative volatility, the index will rebalance on a monthly basis. Higher weighting will be given to the less volatile asset, tracked over the past 360 days. The ratio will be 18.5 % bitcoin to 81.5% gold at launch.
Bond to equity ratio of 60:40 has lost its luster: BOLD is the new 60:40. Gold's volatility is now lower than Nasdaq, but the yellow metal has offered better returns than tech stocks, tech stocks are falling because of peak internet. So, bitcoin is likely to outperform Nasdaq in both bull and bear markets.

Charlie Morris, CIO of ByteTree
BOLD seems to be the first ETP combining gold and BTC exposure even though crypto ETPs have become very common with over 70 listed in Europe at the time of writing.
Is Bitcoin the new gold?
The flagship crypto has often been compared to gold due to its perceived advantage as a hedge against inflation. Investment products that offset the two assets' risks, but combine their benefits are becoming more in demand in parallel to rising inflation in the Euro area. Last month, it reached 7.5%.
At the annual Barclays Crypto and Blockchain Summit at the end of March, Bakkt crypto exchange CEO Gavin Michael and Galaxy Digital CEO Mike Novogratz faced off on the issue of whether bitcoin can replace gold.
Bitcoin was designed as peer-to-peer electronic cash, not as replacement for gold in a vault. While bitcoin may be able to function as digital gold, there's so much more we can get from it.

Gavin Michael, Bakkt
He added that Twitter's enabling micropayments for tipping via crypto and El Salvador's adopting bitcoin as legal tender gave him hope that things were shifting back to Satoshi Nakamoto's original vision for the bitcoin network to serve as a peer-to-peer electronic payment system.
Novogratz praised bitcoin as digital gold, claiming its main purpose was to protect against "really bad fiscal stewardship."
Key Questions on Bitcoin and Gold ETPs
How was the BOLD exchange developed?
Daniela Kirova
Daniela is a writer at Bankless Times, covering the latest news on the cryptocurrency market and blockchain industry. She has over 15 years of experience as a writer, having ghostwritten for several online publications in the financial sector.