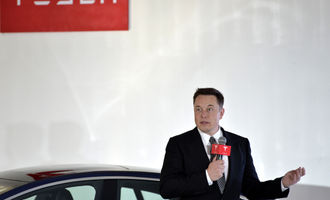 Tesla's $126 bn loss could put Musk's Twitter takeover at risk

Murtuza Merchant
Last updated 30th Nov 2022
Day after Elon Musk finalizes deal to takeover Twitter, Tesla stock crashes 12%
Tesla's market capitalization falls by $126 billion in a day
Tesla crash dents Musk's fortune by $25 billion
Tesla stock has lost about 27% of its value YTD
Even as Twitter signed a definitive agreement to be acquired by an entity wholly owned by Elon Musk, American automotive and clean energy company Tesla Inc's stock crashed by over 12%, wiping out nearly $25 billion from Musk's fortune.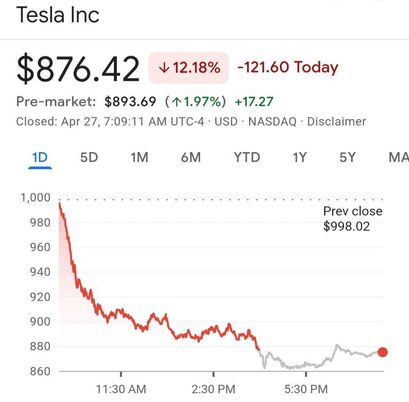 The slide comes a day after Twitter announced that it has entered into a definitive agreement with Musk to sell the microblogging site for $44bn or $54.20 per share.
Tesla's market capitalization has fallen by $126bn after what is being seen by the electric car maker's investors as an adverse impact of the finalization of the deal between Musk and Twitter.
According to experts, their apprehensions are linked to the acquisition's financing, as Musk would be raising $12.5bn in loans against his Tesla stock. For the remaining amount, banks are offering $13 bn in debt financing and Musk has pledged to equity finance $21bn himself.
According to sources, the banks backing Musk's bid balked at providing more debt secured against Twitter, arguing that the San Francisco-based company did not produce enough cash flow to justify it. Some banks were also worried that financial regulators could reprimand them if they took on more risk, the sources added.
The company has seen significant growth over the last few years. Twitter's largest user base is the US, with 76.9 million users followed by Japan at 58.95 million, and 23.6 million users in India, according to market intelligence firm Statista.
Tesla Inc's shares closed at $876.42 apiece at Nasdaq at the time of writing this report, which was around 12.18% or nearly $122 lower compared to the previous day's close.
With the recent battering, the stock has lost about 27% of its value Year to Date.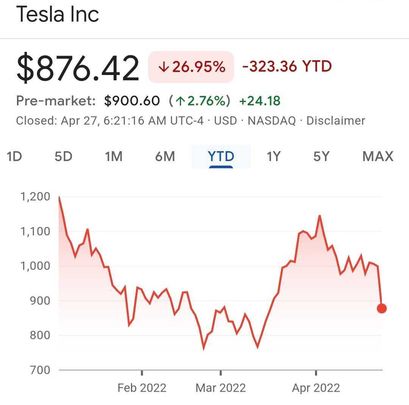 However, Tesla reported a blockbuster first-quarter financial result with an 87% year-on-year jump in revenue to $16.86bn. Its margin jumped 32.9% and a net profit stood at $5.54bn.
The Nasdaq also fell 3% and the S&P 500 index fell 2% amid the continued uncertainty in the war in Ukraine and high inflation.

Murtuza Merchant
Murtuza Merchant is a senior journalist, having been associated with various publications for over a decade. An avid follower of blockchain tech and cryptocurrencies, he is part of a crypto advisory firm that advises corporates – startups and established firms on media strategies.