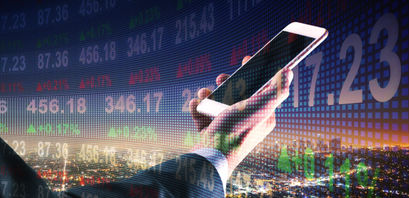 Wikimedia Foundation Stops Accepting Crypto Payments

Murtuza Merchant
Last updated 24th Jun 2022
Wikimedia Foundation stops accepting crypto donations
The WMF received around $130,000 (0.08 percent) in crypto donations last year
In April, the Mozilla foundation banned PoW donations
The Wikimedia Foundation (WMF), the organization behind Wikipedia, has announced that it will no longer accept donations in cryptocurrencies.
Feedback form communities cited as the reason behind decision
"We are making this decision based on recent feedback from those same communities. Specifically, we will be closing our Bitpay account, which will remove our ability to directly accept cryptocurrency as a method of donating," the foundation said in an update.
The update also mentioned that the organization will close its Bitpay account, preventing any future contributions in crypto.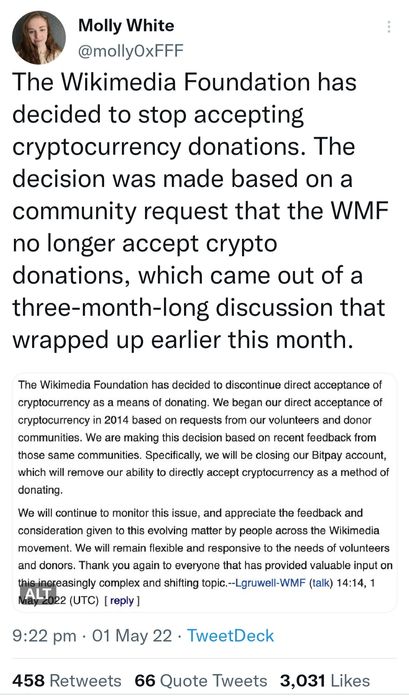 71.17% users favored in support of the proposal
After a lengthy discussion with almost 400 members of the WMF community, the majority voted to do away with crypto contributions. A total of 232 users, accounting for 71.17% of the total vote, voted in support of the proposal.
The community highlighted concerns including the environmental implications of Bitcoin, the risk of scams, and the fact that the WMF gets such a low amount of donations in cryptocurrency compared to other forms of payment.
The WMF, which first began accepting Bitcoin, Bitcoin Cash, and Ether donations in 2014 after its community prompted the organization to do so, received around $130,000 (0.08%) in crypto donations last year.
Molly White, a longtime Wikipedia editor proposed the WMF stop taking cryptocurrency donations in January, arguing that it contradicts the organization's commitment to environmental sustainability and also indicates that the Wikimedia Foundation supports "inherently predatory" investments.
White also cited reevaluation of its involvement in the crypto space. Mozilla ultimately decided to cease cryptocurrency donations in April after receiving backlash from users, developers, and one of its founders, Jamie Zawinski, for posting a tweet reminding users that it accepts donations in Bitcoin and Ethereum.
The WMF stated it "will continue to monitor this issue…and remain flexible and responsive to the needs of volunteers and donors."

Murtuza Merchant
Murtuza Merchant is a senior journalist, having been associated with various publications for over a decade. An avid follower of blockchain tech and cryptocurrencies, he is part of a crypto advisory firm that advises corporates – startups and established firms on media strategies.