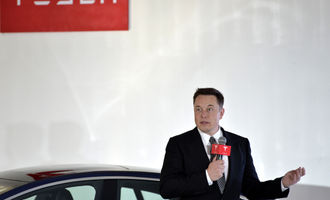 Elon Musk Changes Twitter Profile Picture to Bored Ape NFTs
The move is indicative of Musk's growing interest in NFTs
APE rose as high as $17.60 from this morning's $14.40 level
Billionaire Tesla CEO Elon Musk has put up a collage picture featuring several Bored Ape nonfungible tokens (NFTs) as his Twitter profile picture, with Ape 5809 in the center.
This was followed by a tweet that said, "I dunno … seems kinda fungible."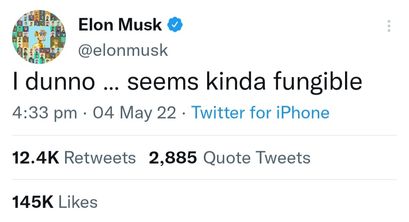 The NFTs featured in Musk's profile picture are all from different artists, each with a unique design and serial number.
ApeCoin, used to vote on community decisions and other services within the popular Bored Ape Yacht Club (BAYC) ecosystem, immediately surged 20% to $17.60, data showed after the change, and was trading at $15.7, at the time of writing.
Shortly after Musk made the change, Michael Bouhanna, a contemporary art specialist at auction house Sotheby's, took to Twitter to call him out for using the image. Bouhanna said he created the picture for Sotheby's $24 million sale of 101 Bored Apes in September, which included Ape 5809.
Musk, who recently hogged the headlines for acquiring Twitter, is a crypto enthusiast and the recent move shows his apparent interest in NFTs too.
NFTs are non-interchangeable units of data stored on a blockchain that can be sold and traded and are often associated with digital files such as photos, videos, and audio.
BAYC NFTs are highly desired among NFT collectors. The recent NFT project launch by Yuga Labs, makers of the Bored Ape NFT, caused gas fees on Ethereum to rise by thousands of dollars.
Several celebrities have or had put up Bored Ape pictures as Twitter profile pictures in recent times. Basketball star Stephen Curry and musician Steve Aoki are among the celebrities who have done it.
Musk faces flak from NFT community
Musk received flak from the NFT community, with some saying Elon Musk made a collage of "screenshotted bored apes his profile picture to troll NFT owners." Others believe Musk is trying to signal his intention to get into the NFT space.

Murtuza Merchant
Murtuza Merchant is a senior journalist, having been associated with various publications for over a decade. An avid follower of blockchain tech and cryptocurrencies, he is part of a crypto advisory firm that advises corporates – startups and established firms on media strategies.