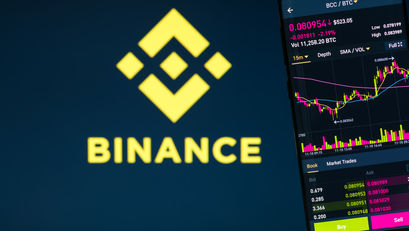 Binance Lends Musk's Twitter bid a Helping Hand with $500M

Daniela Kirova
Last updated 29th Jun 2022
Twitter has received $7.2 billion in financial commitments
The biggest contributor was Lawrence J. Ellison Revocable Trust with $1 billion
Approval of regulators and Twitter stockholders is pending
The world's biggest crypto exchange will be taking part in Elon Musk's $44 billion acquisition of Twitter, according to data filed with the United States Securities and Exchange Commission (SEC).
Twitter Received $7.2bn in Financial Commitments
On Thursday, May 5, Elon Musk filed an amended general acquisition statement, announcing that Twitter received around $7.2bn in total in financing commitments connected to the merger agreement.
According to the statement, there are 18 investors in the acquisition. Leading crypto industry players like Fidelity Management and Research Company and Sequoia Capital Fund are among them. Binance has made the fourth biggest contribution. Earlier last week, Binance CEO Changpeng Zhao announced that it will have licensed offices across G7 countries in Europe and US.
The Main Contributor Invested $1bn
The biggest contributor was Lawrence J. Ellison Revocable Trust with $1bn. Sequoia Capital and VyCapital were second and third with $800 million and 700 million, respectively.
A "Small Contribution"
Binance CEO Changpeng Zhao tweeted that his company's investment was a "small contribution to the cause" after the filing became public. Each equity investor who is listed in the document has committed to contribute at or right before the closing of the acquisition. The statement reads:
Equity Investors have retained an option to satisfy such Equity Investor's equity commitment with shares of common stock held by such equity investor, valued at $54.20 per share.
Transaction Could Happen any Day
Elon Musk, who's currently the richest man in the world, officially announced the acquisition of the social media giant on April 25. The deal could happen any day but approval of regulators and Twitter stockholders is required.
Musk's Priorities
Musk has said removing "spam and scam bots and the bot armies" is among his top priorities for Twitter, especially crypto-related ones.
Animosity Between Musk and CZ
Last year, Musk requested that Binance address some issues on its platform, leading to a small fight on Twitter with the Binance CEO. More specifically, Musk pointed out an issue related to some Dogecoin withdrawals stuck on Binance, asking the CEO to give an explanation.
Daniela Kirova
Daniela is a writer at Bankless Times, covering the latest news on the cryptocurrency market and blockchain industry. She has over 15 years of experience as a writer, having ghostwritten for several online publications in the financial sector.