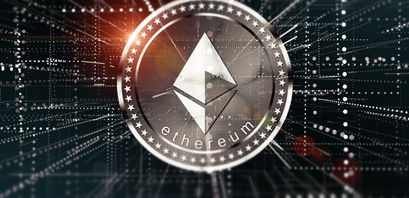 Ethereum Classic Price Prediction for May 2022

Crispus Nyaga
Last updated 11th Aug 2022
Ethereum Classic has gone parabolic recently.
Activity in the network is still muted.
Gains may not be sustainable in the long term.
Ethereum Classic price has made a steady recovery in line with other popular cryptocurrencies and stocks. ETC is trading at $31.20, which is the highest it has been since April 26th. It has risen by more than 26% from its lowest level this month, bringing its total market cap to about $4.3 billion, making it the 34th biggest coin in the world.
Ethereum Classic rebounds
Ethereum Classic is a leading blockchain project that emerged from a fork of the main Ethereum. It is a smart contract platform that enables developers to build decentralized applications (dApps) in all industries like DeFi and non-fungible tokens (NFT).
To a large extent, Ethereum Classic has not been as successful as Ethereum. For one, most developers have chosen Ethereum as their platform of choice for building decentralized apps.
Ethereum has been used to build most of the biggest DeFi apps like Curve, Uniswap, and Aave. In total, it currently secures over $200 billion worth of DeFi applications. It has also been used to build NFT catalogues like Bored Ape Yacht Club, Otherdeed for Otherside, and Murakami Flowers among others.
Unlike Ethereum, Classic has also stuck with the proof-of-work system while Ethereum is currently in a transition to a proof-of-stake (PoS) consensus.
Therefore, the level of market activity in Ethereum Classic is a bit limited. According to DeFi Llama, it has a TVL of just $286,094, which makes it significantly tiny. Some of the top applications that were built using Ethereum Classic are Token Factory, HebeSwap, ETCPunks, and MoonLama, which are relatively tiny.
Ethereum Classic price is therefore rising because of the overall performance of other digital coins. In total, the market cap of all cryptocurrencies has risen to more than $1.9 trillion after the Fed decided to hike interest rates.
Ethereum Classic price prediction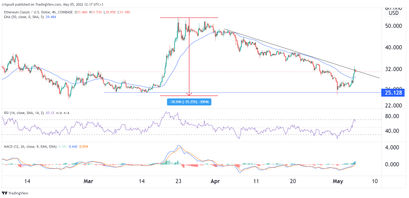 The four-hour chart shows that the ETC price peaked at about $50 in March this year. Since then, it declined by more than 55% to a low of $24.62 in March. At the time, most cryptocurrency prices were in a downward trend.
Now, the coin has bounced back and managed to move above the 25-day moving average. It has also retested the descending trendline that is shown in black while the Relative Strength Index (RSI) has moved close to its overbought level. The Stochastic Oscillator has moved above the neutral level.
Therefore, Ethereum Classic will likely resume the bearish trend as the dead cat bounce pattern fades. If this happens, the key support level to watch will be at $28.

Crispus Nyaga
Crispus is a financial analyst with over 9 years in the industry. He covers cryptocurrencies, forex, equities, and commodities for some of the leading brands. He is also a passionate trader who operates his family account. Crispus lives in Nairobi with his wife and son.