NFT transaction volume growth inconsistent since 2021
$37 billion poured into NFT marketplaces in 2022 as of May 1
NFT transaction activity in the week of March 13 lowest since the week of August 1, 2021
Q1 2022, 950,000 unique addresses bought or sold an NFT, up from 627,000 in Q4 2021
Web traffic to popular NFT platforms most from Central and Southern Asia
Even as NFT transactions volume grew significantly since the beginning of 2021 despite fluctuating month to month, activities in the space have cooled off in the first quarter of 2022, according to a report from blockchain data firm Chainalysis.
Overall, collectors have sent over $37 billion to NFT marketplaces in 2022 as of May 1, putting them on pace to beat the total of $40bn sent in 2021.
NFT market growth inconsistent
However, since late summer 2021, NFT transaction growth has remained inconsistent, with activity largely remaining flat except for two big spikes: One in late August, which was likely driven by the release of the Mutant Ape Yacht Club collection, and one stretching from late January to early February of 2022, which was likely driven by the launch of the LooksRare NFT marketplace.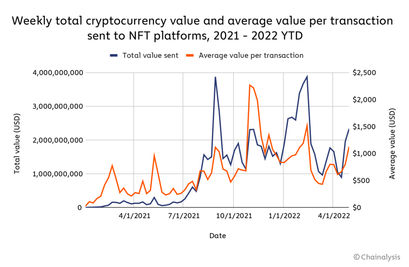 After that spike though, NFT transaction activity declined significantly beginning in mid-February, dropping from $3.9bn the week of February 13 to $964 million the week of March 13 — the lowest weekly level since the week of August 1, 2021.
The NFT space is cresting the peak of the Gartner hype cycle and since NFTs are by nature illiquid and communities are built around concepts like diamond hands – who do not sell, many will continue to hold rather than sell for ever-lower prices.

Garrett Minks, CTO of RAIR TECH
"This trend will reverse when real utility is attached to the surviving NFT projects. Blue-chip projects such as Cryptopunks, Bored Apes, and Art Blocks, will likely survive and come out the other side stronger for proving themselves through an entire cycle. Some NFTs might even continue to gain value as safe haven NFTs assets, while liquidity is drained from lower-tier projects," Minks says.
In Q1 2022, 950,000 unique addresses bought or sold an NFT, up from 627,000 in Q4 2021.
Increase in number of active NFT buyers since Q2 2020
Overall, the number of active NFT buyers and sellers has increased every quarter since Q2 2020. In Q2 2022 as of May 1, 491,000 addresses have transacted with NFTs, putting the NFT market on pace to continue its quarterly growth trend in the number of participants, the report states.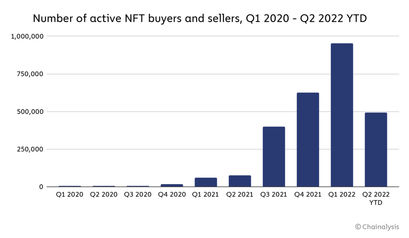 Anndy Lian, Thought Leader and Chief Digital Advisor to Mongolian Productivity Organisation disagrees the NFT transaction activity has "stabilized," but rather "matured".
"The volume will in fact pick up in the next half of the year given that more NFTs are being made available on more chains. Polygon for instance will be gaining a lot more traction in the months to come with their NFT and game assets NFTs," he says and adds that this year, one will no longer hear a new NFT went up 10,000 times, a 10 times growth will be considered extremely successful.
Echoing similar sentiments, experts say stabilizing of the NFT activity is a positive sign, that the market is maturing and transitioning from speculation to real application development.
NFT valuation will depend on the usability of the token and the best tokens will be those that allow people to transact real value quickly and simply.
"That may be a virtual good, a service, or something else. The end goal is to have a variety of tokens that people use to buy and sell things as easily as we use dollars today. As long as someone is actively transacting with a token, the value of that token is increasing. The stabilization will happen once a few major applications have been implemented," Chris Panteli, Founder at LifeUpswing says.
Author Bio

Murtuza Merchant
Murtuza Merchant is a senior journalist, having been associated with various publications for over a decade. An avid follower of blockchain tech and cryptocurrencies, he is part of a crypto advisory firm that advises corporates – startups and established firms on media strategies.