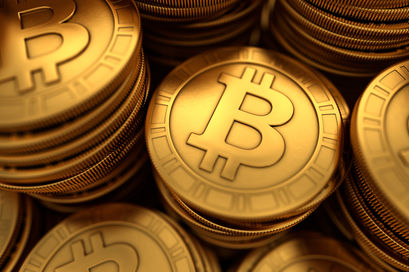 El Salvador Buys 500 Bitcoin As Market Tumbles

Murtuza Merchant
Last updated 31st Jan 2023
El Salvador purchases 500 Bitcoin at average price of $30,744
El Salvador now holds 2,300 Bitcoin
Total value of El Salvador's Bitcoin: Around $72.5 million
Bitcoin has lost half its value since its ATH in November 2021
Central American nation El Salvador purchased 500 Bitcoin (BTC) for around $15.3 million today, even as the world's largest cryptocurrency by market value plunged below the $31,000 level, the country's Nayib Bukele has announced.
"El Salvador just bought the dip! 500 coins at an average USD price of $30,744," Bukele announced on Twitter.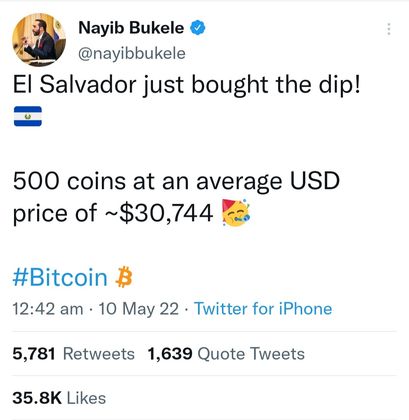 At the time of writing, BTC was trading at $30530, down 12%, according to data from CoinMarketCap.
With the country's democratic assembly agreeing to create a $150m Bitcoin Trust, El Salvador now holds a total of 2,300 BTC, at a combined value of about $72.5m.
The country's decision to purchase comes at a time when BTC has fallen to its lowest level since July 2021, as slumping equity markets continue to hurt cryptocurrencies, currently trading in line with riskier assets like tech stocks.
The cryptocurrency has lost more than half its value since it hit an all-time high of $69,000 in November last year.
Salvadorans against adoption of BTC as legal currency
While Bukele believes BTC can help revolutionize El Salvador, the majority of Salvadorans do not share his perspective, demonstrating against the adoption of BTC as legal tender.
Nearly 93% of Salvadorans including businessmen and international organizations were against BTC adoption, according to a poll conducted by the chamber of commerce.
But that notwithstanding, Bukele-controlled courts and congress forced all vendors to accept BTC — a move that compelled Salvadorans to organize large street protests, denting Bukele's popular support while at it.
Since El Salvador said it would allow consumers to use the cryptocurrency in all transactions, alongside the US dollar, the International Monetary Fund has urged it to reverse its decision.
Meanwhile, in the last year Bitcoin has become legal tender in two countries - El Salvador and the Central African Republic.

Murtuza Merchant
Murtuza Merchant is a senior journalist, having been associated with various publications for over a decade. An avid follower of blockchain tech and cryptocurrencies, he is part of a crypto advisory firm that advises corporates – startups and established firms on media strategies.