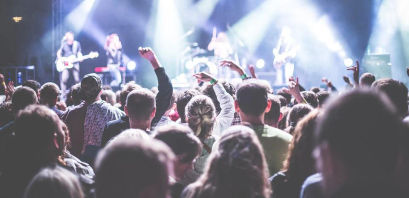 Profitable Developments Introduces CryptoConcerts, a Crypto-Optimized Ticketing and NFT Solution

Daniela Kirova
Last updated 29th Jun 2022
The platform will support ticketing, NFT integrations, and other features for in-person and virtual metaverse events
Providing services for streaming and distribution support for XR and metaverse events
Profitable Developments Inc. announced the formation of its subsidiary CryptoConcerts Inc., a crypto-optimized event solution founded by David Howard Weaver and Joe Wallace, Bankless Times learned from a press release.
The platform will support ticketing, NFT integrations, and other features for in-person and virtual metaverse events.
Support for crypto and traditional payments
CryptoConcerts is expected to launch later in 2022. The ticketing platform will be capable of handling fiat as well as crypto payments.
It will also provide services for streaming and distribution support for XR and metaverse events and NFTs linked to tickets and events.
ICO to take place next year
Next year, the platform will launch an ICO (Initial Exchange Offering) with CC Coin, its own native token, and a Decentralized Autonomous Organization (DAO) to give buyers an incentive to engage with the new coin.
CryptoConcerts will also provide ticketing and streaming services for upcoming hybrid in-person and virtual metaverse events.
Extensive experience with emerging tech and live events
David Weaver and Joe Wallace have extensive experience with both emerging technologies and live events. Weaver has worked in the area of live music and sports performances with projects involving NASCAR, USA Ski, NCAA Football, Snoop Dogg, and Kid Rock.
Wallace is the CEO of Drinq Budz and Illusion Entertainment Group as well as an angel investor and entrepreneur.
He was involved in the successful global launch of Proto hologram. He has experience with multiple major league sports projects and has worked with Sean "Diddy" Combs, Migos, and other celebrities.
Daniela Kirova
Daniela is a writer at Bankless Times, covering the latest news on the cryptocurrency market and blockchain industry. She has over 15 years of experience as a writer, having ghostwritten for several online publications in the financial sector.