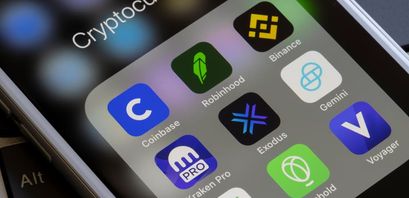 Crypto app's first time installs in Europe reached 20M in Q1 2022

Elizabeth Kerr
Last updated 15th Dec 2022
The first quarter of 2022 has seen almost 20M first time crypto apps installs in Europe.
Binance led the pack in daily application usage with a ratio of 40%.
Q1 2022 has seen 20M first-time crypto apps installed in Europe, according to a BanklessTimes.com analysis. Yet, this is a 28.5% fall from Q4 2021 figures of 28M. The drop is due to the decrease in market concentration occasioned by the dynamics of the crypto ecosystem.
Binance led the mobile crypto space
Binance and Crypto.com remain the most popular cryptocurrency applications in Europe. The two had an average of over 70.000 total downloads each day.
Besides, Binance dominated the European mobile crypto sector in user engagement. It achieved a DAU/MAU( Daily Active Users to Monthly Active Users) ratio of 40 percent, the biggest among major Crypto applications in the period. It also had the highest number of returning users in Q1 2022, particularly in Ukraine and Turkey.
CoinMarketCap, with a user engagement level of 30%, placed second among all mobile applications. Meanwhile, eToro came in at number three on the DAU/MAU rankings, followed by Coinbase.
The surge in the installation of MetaMask and Kucoin apps
Despite the dominance of Binance and Crypto.com, MetaMask and KuCoin are closing the gap. The two crypto apps are becoming popular crypto applications here. They presently control one-third of the industry in half of Europe's leading countries.
MetaMask has risen quickly thanks to its large user base, which it has enjoyed from its browser extension days. The app has expanded from 6% in Q1 2021 to over 30% in 2022. MetaMask and KuCoin have also gained market share in France. As of Q1 2022, the two companies controlled 36 percent of the market.
Crypto apps and convenience
Mobile devices provide their users the convenience of concluding their trades. That's one of the key factors that drove their exceptional growth in Europe in 2021. New installations grew to almost 100 million, up from 16 million in 2020.
Despite the slow start in the first quarter of 2022, the trend will likely increase with more users adopting them for their security and convenience.

Elizabeth Kerr
Elizabeth is a financial content specialist from Manchester. Her specialities include cryptocurrency, data analysis and financial regulation.