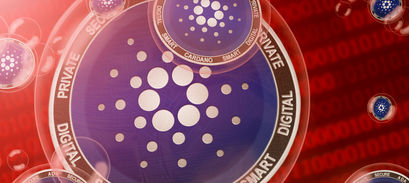 Cardano vs Bitgert: Better Buy Between ADA and BRISE?

Crispus Nyaga
Last updated 30th Nov 2022
Cardano is a leading player in the blockchain industry.
Bitgert has stronger features than Cardano such as its 100k tps.
The battle for the next blockchain project to dethrone Ethereum is still ongoing despite the collapse of Terra and its ecosystem. Most of the contenders claim to solve some of the biggest challenges that Ethereum faces like slow speed and high efficiency. In this Cardano vs Bitgert comparison, we will assess the better buy between the two.
Cardano vs Bitgert
Cardano is an Ethereum alternative that was created by Charles Hoskinson in 2015. Since then, the platform has been implementing its roadmap and last year, they unveiled their smart contract features. By so-doing, the network made it possible for developers to build decentralized applications.
Today, there are hundreds of applications built using Cardano. Some of the most popular apps built using the network are SundaeSwap and MinSwap among others. According to DeFi Llama, the total value locked (TVL) of the network is more than $123 million. This is a substantially small number considering that Cardano has a market cap of almost $20 billion.
At the same time, Cardano has more apps in fields like the metaverse and non-fungible tokens. But unlike Ethereum, no major projects have gained mass adoption.
Bitgert, on the other hand, is a small blockchain project that hopes to become a great Ethereum rival. It is so small such that its token, BRISE, has a question mark in CoinGecko's market cap section. CoinMarketCap has its market cap at zero.
Bitgert's top features are its speed and the substantially lower cost of transactions. According to its website, it can handle over 100,000 transactions per second. This is a substantially higher amount compared to Ethereum and its peers. Ethereum handles less than 20 transactions per second while the average TPS for Solana is about 2,000. Cardano, on the other hand, can handle 250 transactions.
Unlike Cardano, Bitgert's ecosystem is significantly small. The only ones mentioned in its website are Knit Finance, Midas, and Spynx Lab.
ADA vs BRISE: better buy?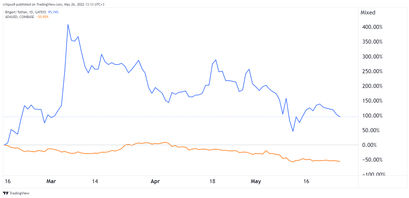 The Cardano price has been in a strong freefall in the past few months. It has managed to move from $3 to $0.48, costing investors over $75 billion. Investors have gotten worried about the network's slow economic growth. BRISE has not done well as well as its price has dropped by over 67% from its March high.
From a technical perspective, Cardano and Bitgert will likely continue falling in the near term. In the long-term, while I have concerns about Cardano, I expect that it will outperform Bitgert. That's because Bitgert has a long way to prove itself.
Read more about the top cryptocurrency exchanges to trade Cardano and Bitgert.

Crispus Nyaga
Crispus is a financial analyst with over 9 years in the industry. He covers cryptocurrencies, forex, equities, and commodities for some of the leading brands. He is also a passionate trader who operates his family account. Crispus lives in Nairobi with his wife and son.