Dr. Monica Vermani, leading Psychologist reveals signpost for crypto addiction
By May 12th, LUNA had lost $40bn of value
With the crypto market's poor performance over the past months and the catastrophic Terra crash, we discuss the link between mental health issues and a fall in crypto prices.
The recent tumble of crypto prices back to levels not seen since 2020 could have real implications on the mental health of traders. In light of Mental Health Awareness Month in the US this May, we take a look at what characterizes a crypto trading addiction, how to approach it, and what may cause it.
Acknowledge that you are stuck in an unhealthy maladaptive cycle of trading

Dr. Monica Vermani, Psychologist
We spoke with Dr. Monica Vermani, leading Psychologist on Corporate Wellness Mental Health Initiatives, to discuss how crypto trading can lead to mental health issues. Trading crypto is a time-consuming process, with countless hours of in-depth research and forensic market attention needed to be successful. However, Dr. Vermani points out that "mounting tension and anxieties that lead to hyper-focusing on trading or investing activities, like obsessive checking online, to the point of avoiding or neglecting other life tasks and responsibilities" could be a sign you have a real problem.
Dr. Vermani suggests that "engaging in increasingly risky transactions for the excitement, thrill, and possibility of quick money," could be a signpost for addiction; a statement that summarizes the current market quite aptly.
A $300 billion crash
This month, the market shrunk by over $300bn and Bitcoin hit its lowest level since 2020. Markets are in a state of extreme flux, which has arguably created the space for even riskier trades, higher levels of excitement, and more possibilities for quick money.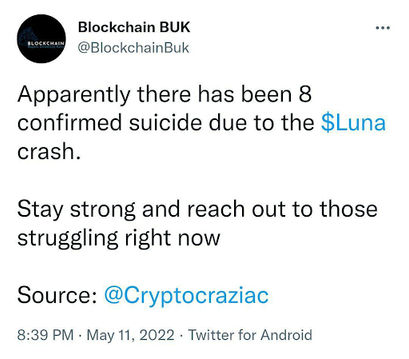 This can be observed alongside the recent cost of living crisis to understand the gravity of financial pressure some may be feeling at this time. The World Health Organization already reported a 25% increase in anxiety and depression since the start of the pandemic.
The Terra LUNA Catastrophe
The complete collapse of one of the market's most popular coins, Terra LUNA, also contributes to a stress-induced market. By May 12th, LUNA had lost $40bn of value, with some individuals losing as much as $3.5bn, and many others seeing their portfolios almost shrink to zero.
Dr. Vermani explains that if, "trading continues despite negative impacts on your finances" you may have a crypto trading addiction and should seek help in the form of therapy and take relevant steps to distance yourself from it.
If you are struggling with your mental health and are not sure what to do you can reach out to organizations that offer support.
For additional information on finding help and treatment options in the US, visit www.samhsa.gov/find-treatment.
Author Bio

Joshua Sherrard-Bewhay
Josh is a finance and Blockchain technical writer with experience in project design, consultancy and reporting. He is well-versed in white paper design, blog construction and freelance journalism. His academic credentials are in International Relations, Environmental Regulation and International Law. In his spare time he works as a sustainability analyst for a FinTech start-up Oxari and a private English tutor.