Tron price has held steady in the past few months.
Tron DAO announced new tweaks to USDD to prevent a bank run.
Tron price rose sharply on Monday as investors reacted to the new tweaks on the USDD stablecoin to prevent the challenges faced by TerraUSD. The TRX token is trading at $0.0842, which is about 64% above the lowest level this year. Tron's market cap has jumped to more than $7.8 billion.
USDD new tweaks
Tron has grown to become one of the biggest blockchain projects in the industry. The platform enables developers to build applications such as those in the DeFi industry.
Data compiled by TronScan shows that the network transacts more than $5 billion worth of Tether and over $172 million of USD Coin.
Tron has been used to build some of the top applications in the DeFi industry. The most notable DeFi projects in the world are Just Lend, Just Stable, and Sun Swap among others. Tron is also in the NFT industry, where it runs the ApeNFT marketplace.
Tron made headlines recently when the developers launched a new stablecoin known as USDD. The new stablecoin was designed as a clone of Terra USD, the coin that lost its peg in May this year. Unlike Tether and USD Coin, the coin is not backed by a stable currency like the US dollar. Instead, it is algorithmic, meaning that its price is determined by market participants.
As evidenced by the recent de-pegging of Neutrino, DEI, and Terra USD, there are concerns that algorithmic stablecoins are incredibly risky.
Here's how to buy Tron.
Therefore, to counter these challenges, Tron made some tweaks to ensure its stability. Precisely, the DAO said that it will have guaranteed minimum collateral of 130%. Data shows that the stablecoin has reserves in Bitcoin, Tether and TRX of about $787 million, which is higher than USDD's market cap of $680 million. Justin Sun said:
"This has been in the plan, but Terra/Luna definitely accelerated and prioritized this for our team. We want to have USDD to be overcollateralized, which I think will make market participants more comfortable about using us in the future."
Tron price prediction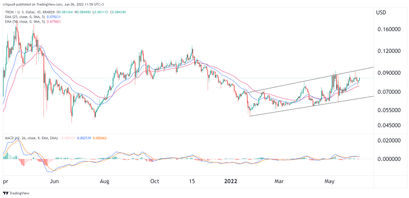 The daily chart shows that the TRX price has been in a bullish trend in the past few days. The coin has formed an ascending channel that is shown in black and moved slightly above the 25-day and 50-day moving averages.
At the same time, the coin's MACD has moved slightly above the neutral level. Therefore, there is a likelihood that the coin will keep rising as bulls target the key resistance at $0.10.
Author Bio

Crispus Nyaga
Crispus is a financial analyst with over 9 years in the industry. He covers cryptocurrencies, forex, equities, and commodities for some of the leading brands. He is also a passionate trader who operates his family account. Crispus lives in Nairobi with his wife and son.